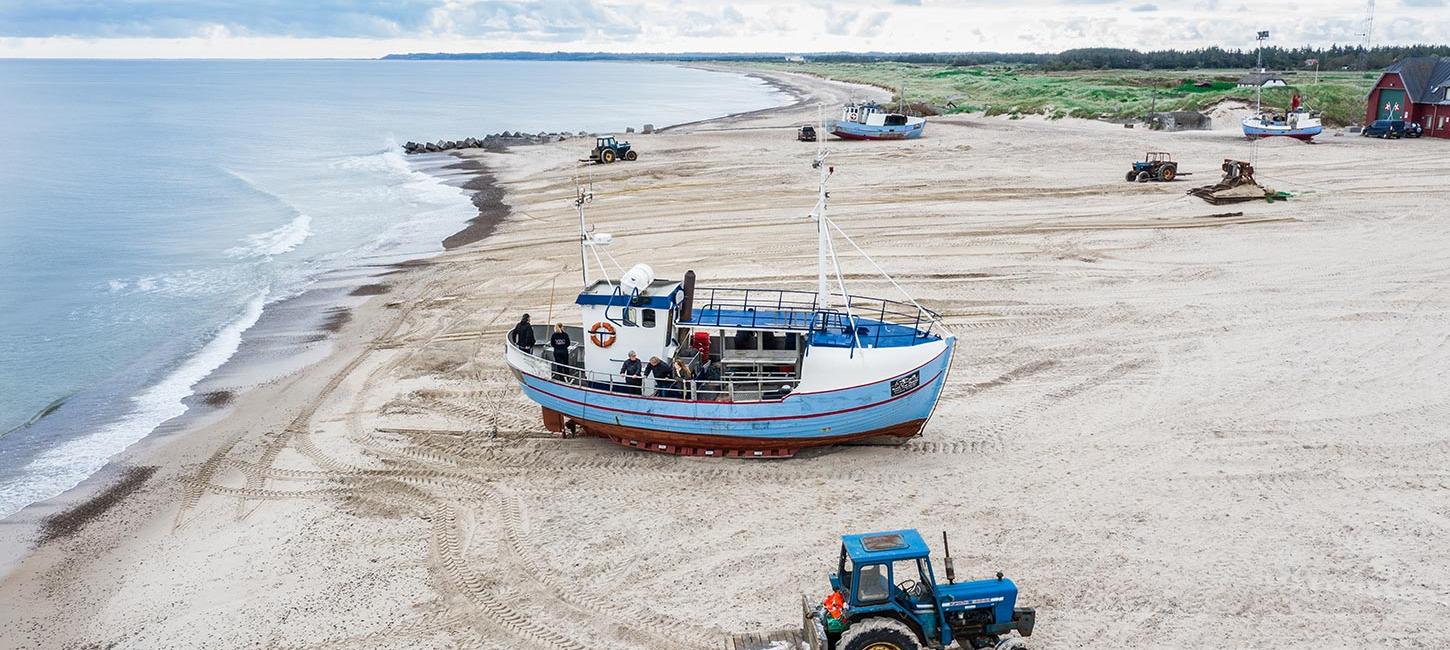 Slettestrand & Thorupstrand
Photo:
Destination Nordvestkysten
Slettestrand/Svinkløv can easily be your starting point for unique nature experiences and an active vacation in Jammerbugten. Experience the light, the dune plantations and the friendly atmosphere.
Only at a few places in Denmark is it possible to meet such a magnificent and distinctive nature as in the area Slettestrand/Svinkløv. Here you will experience the special combination of an active vacation and a beautiful nature that invites you to stay and enjoy the silence.
Your vacation in Slettestrand & Thorupstrand
At the top of Denmark's longest coastal cliff Lien you can find some fantastic viewpoints. At Svinklovene, the high, green slopes stretch all the way out over the sea with a wide view over the endless sea surface of Jammerbugten. Svinkløv Klitplantage offers lush, dense forest areas, ripply springs and open glades. The entire area has many hiking and cycling routes as well as riding paths. Furthermore, you will find one of the best mountainbike routes of Denmark with challenges for both beginners and advanced learner.
Nature gastronomy in Slettestrand
According to a law Jutland's from 1241 you are allowed to collect everything that fits in your basket. And there is a lot to collect in Jammerbugten, where more than 370 etable plants are growing wild. Once, the wild plants were a natural ingredient in everyone's kitchen. Nowadays we forgot how to use them, but it is possible to learn it at Madsmedjen in Slettestrand. Here you can, amongst others, learn about the nature's pantry in a cozy environment with a beam ceiling, lambskin, rustic wooden table and a smoky smell from the wooden stoves, that are used for roasting and smoking everything from mackerel and deer to herbs such as yarrow and sweet gale. They are calling it nature gastronomy, a special food experience, where the participants collect wild ingredients in nature themselves and help in the kitchen. It is all about closeness to nature and a great dish.
Photo:Destination Nordvestkysten
Tranquility and idyll in the seaside hotel
Seaside hotels based on traditional models characterise Jammerbugten as well. Here you can find stress-free places in the first row of dunes, where luxury is found in tranquility, the sunsets and great dining experiences. In the style of the classic seaside hotel from the 1920s, a new seaside hotel got established: Svinkløv Badehotel -  in an exclusive setting and with an informal atmosphere.
Coordinates
Longitude: 9.223979
Latitude: 57.136882