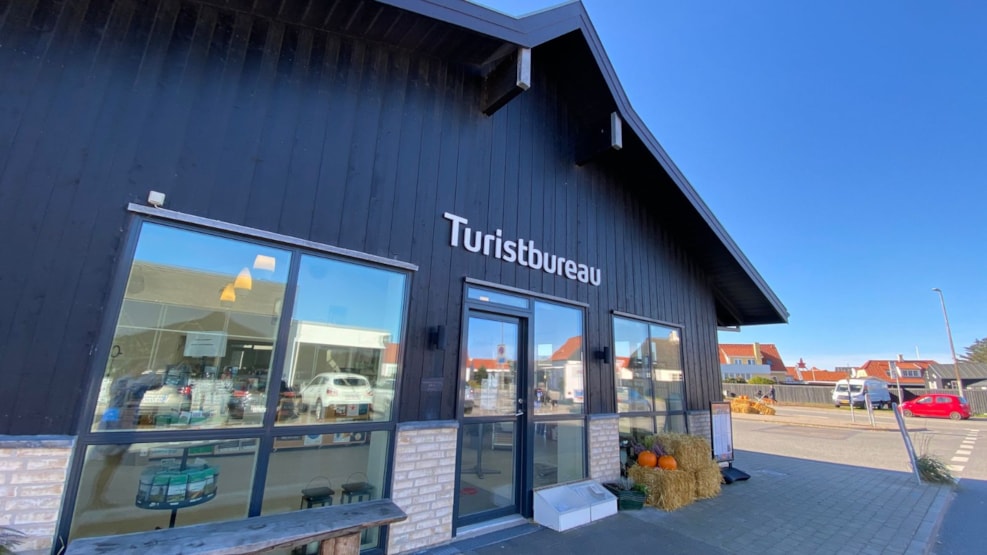 Løkken Tourist Office
Welcome to the Løkken tourist information. Here, the staff is ready to help you with questions and inquiries. The tourist office is very centrally located directly opposite to the supermarket SuperBrugsen Løkken and at the other end of the building you will find Løkken Pharmacy.
When you arrive in Løkken, you will find Løkken Tourist Office centrally from the main road, just opposite SuperBrugsen. From here, it is only a 5-minute walk to the city center, where everything happens, and a maximum of 10 minutes' walk to Løkken Pier and the beach. At Løkken Tourist Office you can seek inspiration and help to get good ideas for accommodation, activities and information about the attractions in the area.
In addition to the personal tourist service, the agency also provides other services. You will also find nearby toilets and next to the tourist office we have Løkken Bus Terminal, where Route 71, 971X, 209 depart from. The tourist office is open all year round, but may have limited opening hours as a result of holy days or holiday processing in the low season.
Tourist information
At Løkken Turistbureau you will find most tourist brochures from all over the country. If you cannot find exactly what you are looking for, the staff will be happy to help you further. Here you get brochures from Blokhus, Løkken, Nr. Lyngby, Lønstrup, Hirtshals, Tversted, Skagen, Thy, Læsø and Mors.
If there is nature on the activity list, the bureau is ready with map material from the Nature Agency for the state's forest and dune plantations. You will also find a selection of cycle maps from North Jutland and the West coast. Løkken Turistbureau sells the following cycle maps: Blkohus-Løkken Map, OUTDOOR Jammerbugt, NORDJYLLAND (Legind), Cykelruter i Nordjylland and Vestkyrouten Cykelguide. In addition to cycle tours, the agency also has maps for the local Kløverstier, Løkken Kunststi and also negotiates maps for Hærvejen. For the major holiday periods, the tourist office is ready with an activity program for what is going on in the city. Come in and visit the town maskot, Mr. Mågensen The Seagull. Children are welcome to give him a hug and have his picture taken.
Lost & Found
The tourist office recieves lost car keys, wallets among other items. Personl items such as key and wallets will be turned over to the local police after surtain amount of time.  
Golf & Tennis
Are you looking for the opportunity to play golf or tennis? Then visit the Løkken Tourist Office. ere, the tourist office helps realize both things. You can buy a green fee for Løkken Golf Club's 9-hole and 18-hole courses, and on top of that, rent equipment.
Small 5 km. North of Løkken in a small village called Vittrup, there is a tennis court owned by the local sports association, VUG. From 1st. of May to 30th. of September, you can rent the court for an hour or for a whole season at the tourist office. Here you will be given a key that you can use to lock yourself in. The tennis court can be rented between 10.00-21.00. Note due to limited opening hours, it may be a good idea to book the court at the tourist office in advance. It is possible to rent tennis rackets for children and adults as well as tennis balls. The court is with gravel.
Gift items and merchandise
The Tourist Office has a selection of posters, postcards, mugs and other gift items. They make most of it themselves, but you can also find postcards, handicrafts, posters etc. from other local artists. In 2021, the center began to produce t-shirts and hoodies, which are perfect attire for your holiday.
NB. The tourist office is open all year round, but due to public holidays, holiday processing in the low season or sudden illness, there may be limited opening hours. Follow or see our Facebook page to stay updated.
Good info:
Parking spaces: Do you also have difficulty finding parking in Løkken? A map of possible places to park in the city has now been created. So be inspired by this so we don't all have to stay in the same place. Do not worry. None of them are further than a 10-minute walk down to Torvet (town square). In the high season or weeks 29, 30 and 31 there will be a pop-up car park at GVL's stadium with entrance from Vrenstedvej. Are you going to the beach? Perhaps it would be an idea to take the car with you:
Either from Ndr. Strandvej
Or Ny Strandvej
ATTENTION! There is a car-free zone from the pier to the north and to the south. Cars with business errands or special driving permit only permitted!
See map here.
Put on the patient hat in traffic and look out for each other.
Travel by bus: Leave the car and take the bus. It is less difficult to drive and park, and then you land in the middle of Løkken ready for experiences, and is no less than more sustainable! Bus 71 runs every day from Aalborg - Aalborg Airport - Aabybro - Hjørring to Løkken. Please note that on weekdays it runs every hour, but on weekends, public holidays and school holidays, it runs every two hours. Find the times at Rejseplanen.dk. In addition to Route 71, 971X runs from Aalborg and 209 from Brønderslev.
Public toilets: In Løkken you will find public toilets in the town center and down by the water. Below you can see the addresses for which are available:
Ny Strandvej 50
Jyllandsgade 17
Vrenstedvej/Møstingsvej between Løkken Badehotel and Galleri Løkken at the intersection.
Mr. Strandvej 16B
Sdr. Strandvej 21
VisitNordvestkysten © 2023