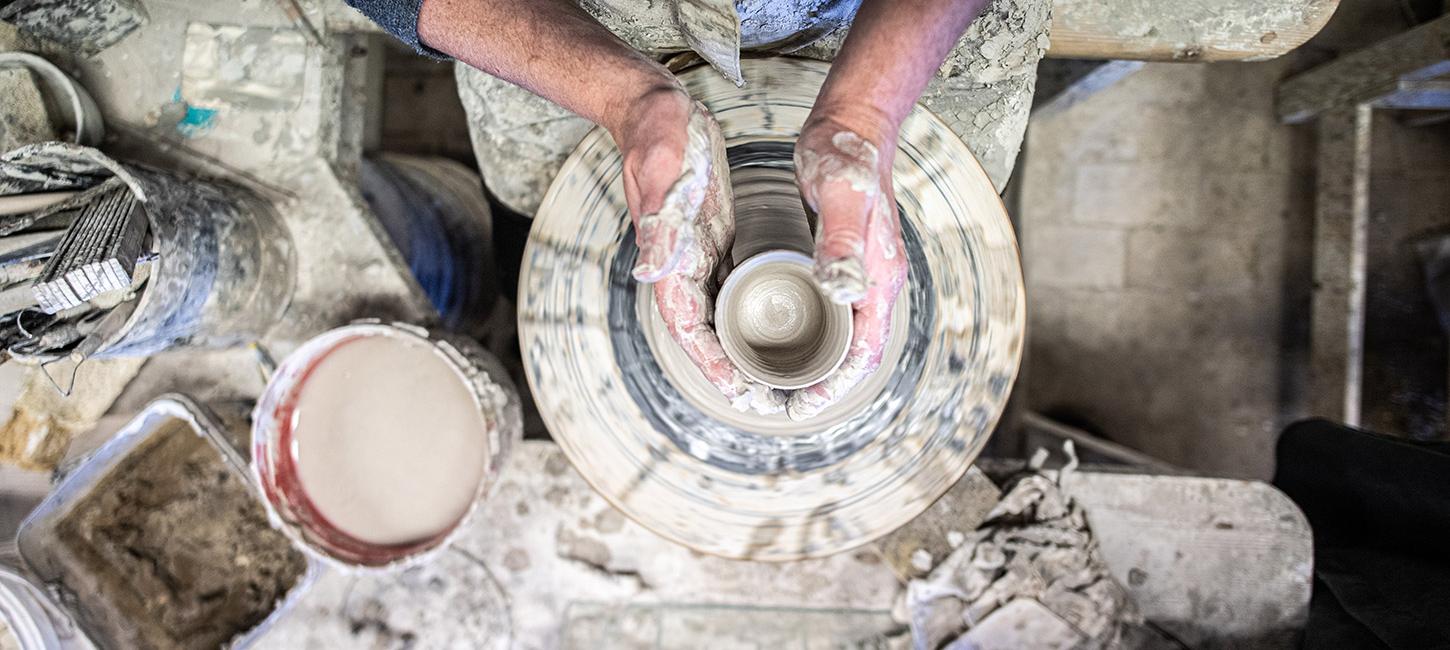 Experience art at the Northwest coast
Photo:
Destination Nordvestkysten
Visit the many working workshops and experience the process that in the end leads to an unique artwork.
Explore
Plan your next trip to some of the Northwest Coast's many talented artisans, and experience how only imagination sets the limits when creativity is put into play.
A world of arts and crafts
At the Northwest coast you find a variety of craftspeople who are working with different materials and techniques such as glass, ceramic and wood. Many studios have working workshops where you can closley follow the artisan's work and also often get in a conversation with the artists themselves about sources of inspiration and experiences.
Glass art - a magical ancient craft
Glass art is a more than 2.000 year old craft and it seems almost magical when the glassblower is blowing life into the warm, red-hot lump of glass, transforming it into a beautiful and unique bowl, vase, wine glass or sculpture. Lønstrup is the city in Denmark with the highest concentration of craftspeople and here you will find two glassblowers as well. At Glashuset Lønstrup you can follow their work in the large open workshop. They are crafting artifacts and sculptures and oneself gets quickly fascinated by the large hot ovens where they are working intensifely with the liquid glass. The same applies for Glaspusteriet Rikke Precht but the style and design are entirely different. Both have in common that it is a difficult decision to choose which of the beautiful works of art to take home with you as an eternal memory and to a great delight for the eye.
Photo:Destination Nordvestkysten
Visiting a ceramist
The many ceramists located along the entire Northwest coast follow each their own expression and design. Different materials and burning methods lead to many different results. Beautiful shapes such as vases, bowls or the like are thrown from clay. The ceramists throw and burn in open workshops where they are also selling their works of art. At Keramiker Dorte Visby in Lønstrup there is both the possibility to see the works of the artist but the place functions at the same time as a gallery for many other arts which are sold here as well. Right outside the door you can enjoy the magnificent view of the Rubjerg Knude lighthouse.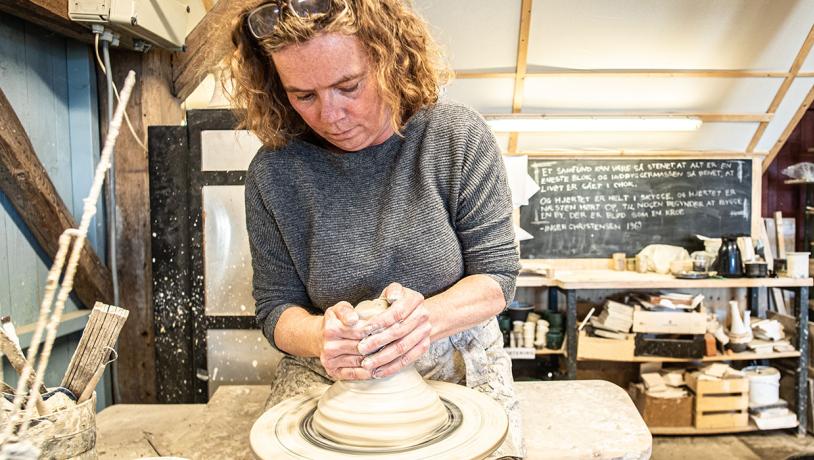 Photo:Destination Nordvestkysten
Art galleries with something for everyone
The galleries offer various experiences with everything from gentle watercolors to modern and provocative works. Moreover, you can also find artists who are working in their gallery, so you can follow the creation of the works.
Lien Kunstcenter is an exhibition site for danish and foreign artists with an absolutely unique location in Slettestrand and a view over the bay of Jammerbugten.
Photo:Destination Nordvestkysten
Art is also...
Art and creativity arise from many different materials and only fantasy sets boundaries. At the Northwest coast you can find artists who grind amber, which they have found on the beach, into pretty jewelry and stonemasons who craft beautiful stone sculptures out of the raw material. Visit a jewelry designer and take home unique jewelry - here it is worth mentioning Holberg Smykker in Lønstrup where you can find hand-forged jewelry, inspired by the mystery of nature. At Hornvarefabrikkens workshop in Bøvlingbjerg they appreciate the ancient craft, so they manufacture horn into spoons, jewelry and objects of utility. In Blokhus there is a completely unique Museum of paper art which is the only one of its kind in the Nordic countries.
Here you can explore the many different craftspeople yourself.