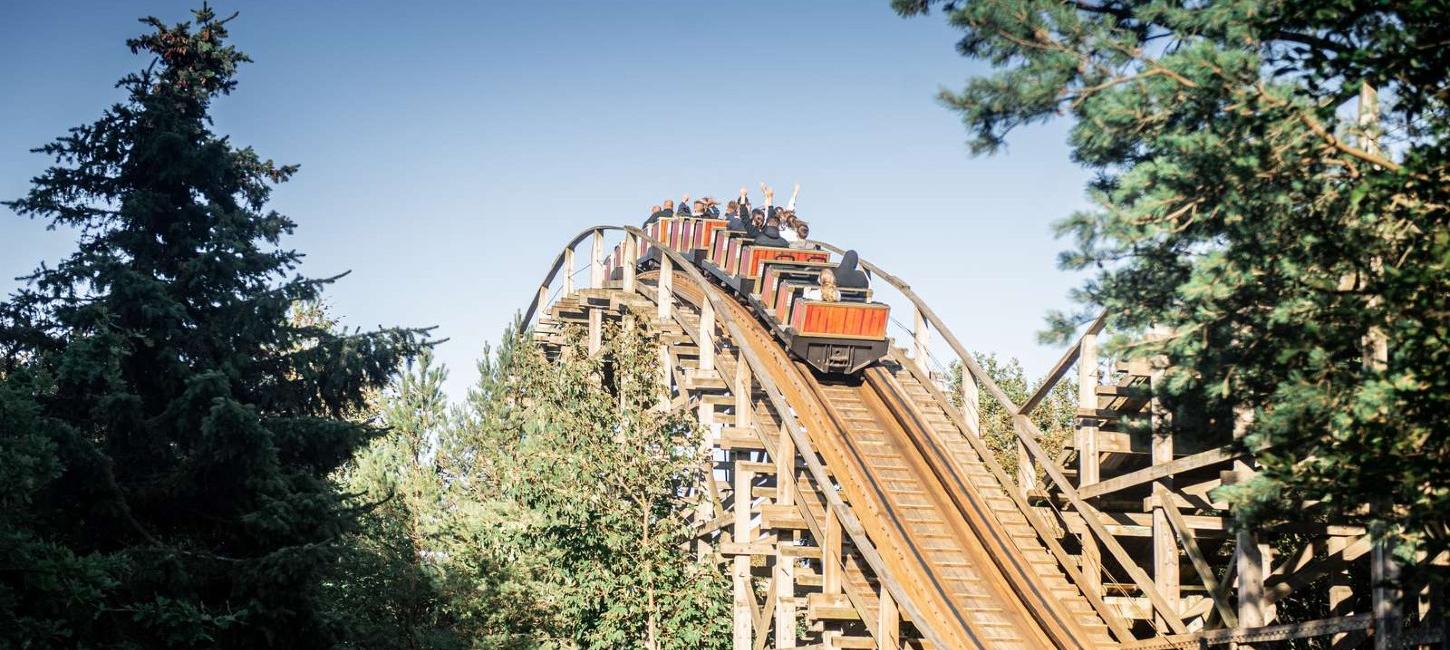 Fårup Sommerland
Photo:
Destination Nordvestkysten
In the middle of the forest, you find the oldest amusement park in Denmark - Fårup Sommerland. Fårup Sommerland is one of Denmark's biggest tourist attractions, and the park is full of crazy rides. 
Up close to the beach at Blokhus and Løkken and yet all the way into the forest sits the amusement park Fårup Sommerland. Fårup is one of Denmark's biggest tourist attractions with plenty of wild, fun, and crazy water activities for the whole family. Everything from wild roller coasters and a children's theme park to Denmark's biggest and wettest water world. There are over 60 rides - and once the admission has been paid, all rides and the Aqua Park are free.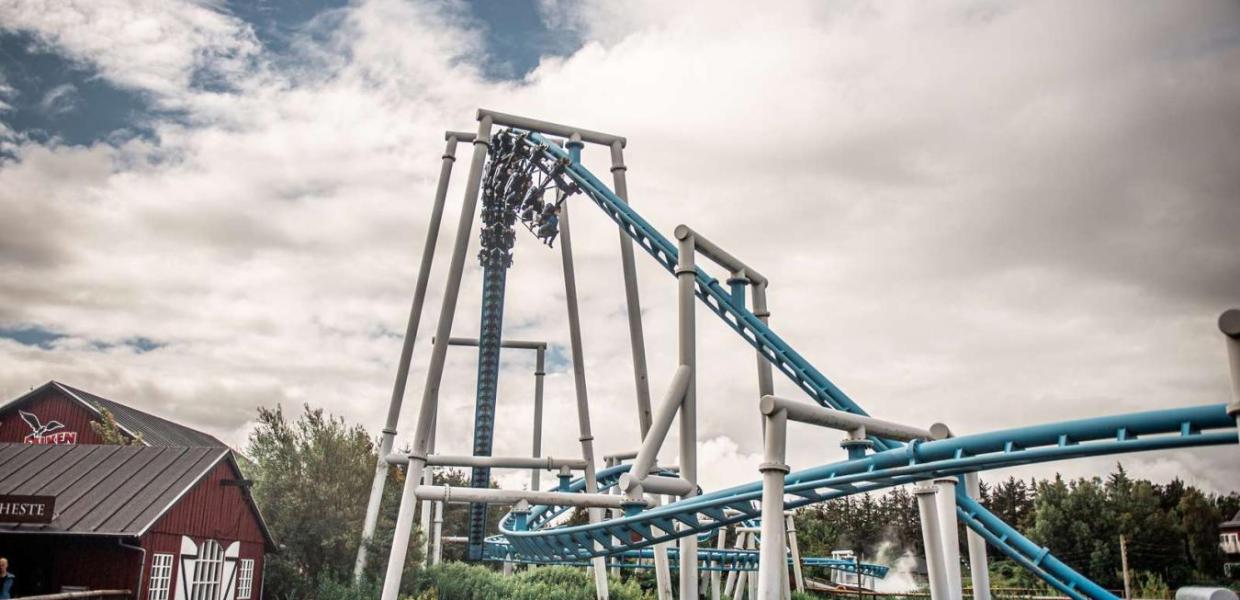 Photo:Destination Nordvestkysten
Speed, fun, and happy times for adults and children
The forest offers experiences for the whole family. For example, the youngest can take a ride in "Den Røde Baron" (The Red Baron) where the little pilots steer their own airplanes. Another of the children's favorites in Fårup is "Egerntårnet" (Squirrel Tower) where you are elevated up to the treetops and before rushing back to the ground in a free fall. For the older guests seeking a rush, there are fast and furious roller coasters with plenty of velocities. The Hurricane roller coaster runs both above and BELOW the water - the only one to do so in the Nordic region! You can also try Denmark's wildest acceleration in the roller coaster "Lynet" (Lightning), which blasts off from 0 to 80 km/h in just two seconds. Or how about a ride on "Falken" (The Falcon), Denmark's fastest wood roller coaster, or Saven (The Saw), which so far is the tallest roller coaster in the park at no less than 24 meters. Saven is the only roller coaster in Denmark that runs both backward and forwards! Saven is a ride for the whole family, as it can be ridden by speed-happy guests all the way down to a height of 95 cm.
Fårup is much more than fun roller coasters. You can also romp about and enjoy bouncy castles, numerous trampolines, horse riding, miniature golf, canoeing, climbing frames or a trip to the huge playground. And, most of all, Fårup is all about good times and a real forest atmosphere!  
Denmark's largest water world
Fårup is also home to Denmark's largest Aqua Park, where the whole family can frolic in the wild waves of Bølgebassinet (the Wave Pool), which is heated to 27 degrees. You can also zoom past each other at Surfhill or ride together in the giant inner tubes in Vandslangen (the Water Snake). You could also try the "Vandkanon" (Water Canon), which is the world's first outdoor water roller coaster with a free fall and two loops.
Stay in Denmark's funniest forest
Who doesn't dream of waking upright in the middle of the park with a fantastic view of the lake, "Orkanen" (Hurricane) and "Falken" (Falcon) - ready for wonderful experiences? Fårup Sommerland's own hotel - Hotel Fårup - is a four-star family hotel themed in a true Fårup forest atmosphere, which is made for happy times, play, and relaxation for the whole family.  If you are "just" a guest in the park, you are more than welcome to pop into the hotel and experience the cozy and calm atmosphere. Naturally, the hotel's restaurant is open to both park and hotel guests.
Nyhed 2022: 
Glæd dig til at besøge Fårup i år, hvor Danmarks største, hurtigste og højeste rutsjebane rejser sig fra Fårups skovbund i påsken 2022. Fønix vil stige 40 meter op mod himlen - og brede sig smukt ud i skoven - på Danmarks længste loop-bane. Fønix bliver ubetinget den hurtigste fugl i alle danske skove med en topfart på 95 kilometer i timen! Fønix kan prøves af fartglade gæster helt ned til 120 cm.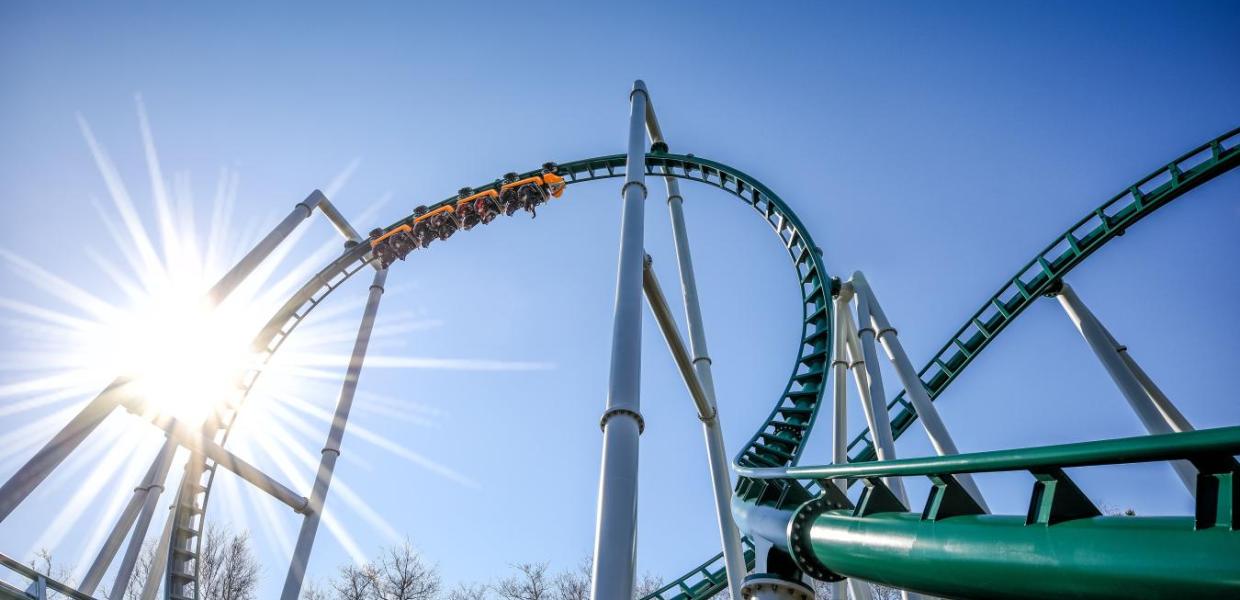 FØNIX
Danmarks absolut største, højeste og hurtigste rutsjebane
Danmarks største vandland
I Fårup finder man også Danmarks største Aquapark, hvor hele familien kan boltre sig i de vilde bølger i Bølgebassinet, der er opvarmet til 27 grader. Du kan også suse om kap på Surfhill eller køre sammen i kæmpe baderingene i Vandslangen. Man kan også prøve Vandkanonen, som er verdens første udendørs vandrutsjebane med frit fald og to loops.
Bo midt i Danmarks sjoveste skov
Hvem drømmer ikke om, at vågne op lige midt i parken med en fantastisk udsigt over søen, Orkanen og Falken – klar til dejlige oplevelser? Fårup Sommerlands eget hotel - Hotel Fårup - er et 4-stjernet familiehotel tematiseret i ægte fårupsk skovstemning, som ligger op til hygge, leg og afslapning for hele familien.  Er man "blot" gæst i parken, er man mere end velkommen til at slå et smut forbi hotellet og opleve den hyggelige og rolige atmosfære. Hotellets restaurant er naturligvis åben for både park- og hotelgæster.
Horse riding in nature
Fårup has 35 Icelandic horses that guests can both try inside the amusement park and join a lovely ride through the forest, nature, and terrain surrounding Fårup. We offer different rides suited for both experienced and inexperienced riders. For our youngest guests, there is an option to join a horse walking tour around the forest.
Fårup's Icelandic horses are calm, reliable, and used to children, so we guarantee a fun experience regardless of experience level. All our trips feature experienced guides who know both the horses and the area around Fårup exceptionally well.