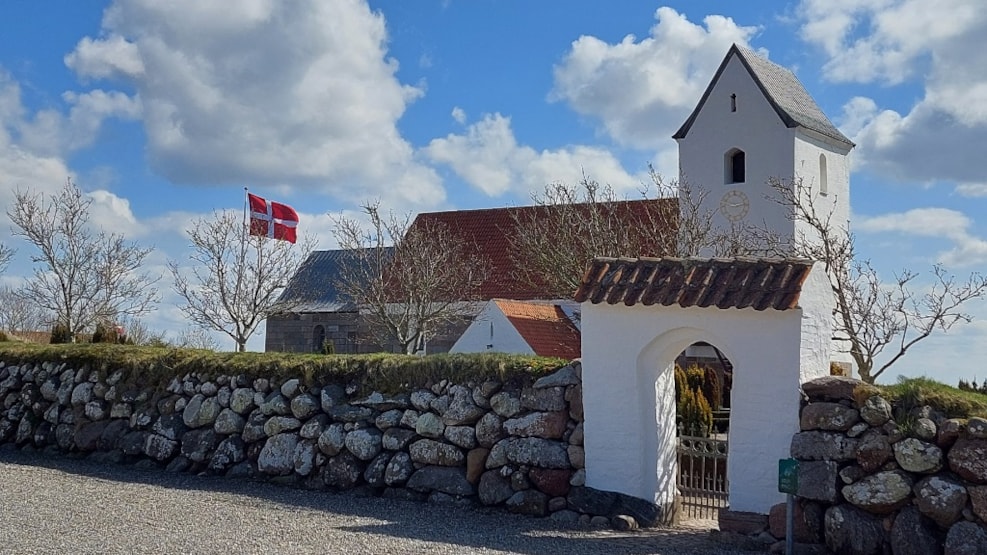 Ydby Church
The village church Ydby Church in Thy has a choir and nave, which were built of granite blocks in Romanesque times. The choir is probably built as the first before the rest of the church.
The north windows of the nave are original. The tower was built around 1500. The porch is the same age as the tower.
On the night of November 6, 1742, the church burned down as a result of lightning. The fire ravaged the choir and nave, while only the porch was spared. Of the furniture, only lime, disk, messhaagel and bell were saved. The bell was cast by De Smithske Jernstøberier, Aalborg.
The chancel arch was badly damaged by the fire in 1742 and was repaired with cement. The fresco around the chancel arch was exposed in 1926 and is believed to have originated from the repair after the fire. The benches are of more recent date (first half of the 20th century) and are partly copied from older benches.
The altar table is from Gothic times. It is walled up the choir's east wall of yellow monk stones and partly squares. A semicircular granite block that probably originally served as a tympanum has a saint's tomb that is now inaccessible. In the tomb of the saint is kept a relic capsule of lead containing bone fragments and pieces of clothing.
The altarpiece is very large. It is a Lutheran wing altarpiece from 1577. It may have originated from Budolfi Church, Aalborg, The altarpieces from 1655 are actually secular tablecloths. They are only 20 cm tall.
The baptismal font is a modern imitation of a thybofont. The pulpit is from 1743. The pulpit was restored in 1930.
VisitNordvestkysten © 2023