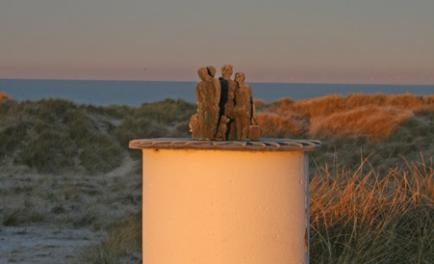 Winter solstices at the solstice column
Marking of the winter solstice.

The solstice monument in Løkken is one of a kind. It shows where the sun sets in the summer and at winter solstices.
On December 22nd the sun sets at app. 03.39 p.m. Locals and tourists meet at the solstice column and celebrate this special day in harmony with nature. We sing some traditional songs in Danish.
The solstice monument is an attractive sculpture made by Artist Bodil Dam. And it depicts a small group of people watching the sunset. You will find it in front of old watertower.
Small event in Danish, but  everyone is welcome!