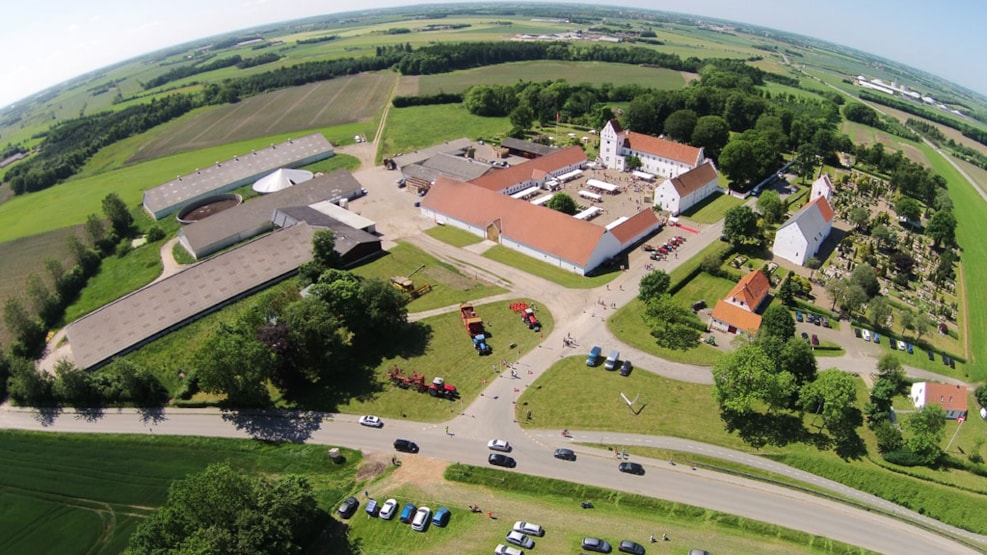 Vrejlev Monastery
Vrejlev Monastery dates back to year 1200.
The northern part of the old monastery still has the original walls.
Until the reformation, the monastery was inhabited by nuns and one prior. Usually the prior was one of the monks from Børglum Abbey. No one is sure of when the monastery was founded, however, it was functioning in 1254. It was founded as a daughter monastery of Børglum Abbey, which was not allowed to enlist sisters. After the reformation, the monastery became land and estate of the king ran by imperial bailiff. As time passed, the estate was sold and passed on to many various owners.  
From a monastery to agricultural
Svend Malthe Holst bought the estate in 1932 after a reconstruction and modernising of the west wing due to a fire back in 1914. S. M. Holst ran and owned the monastery until 1972, but it stayed in the Holst-family. Today it is the 3rd generation, who is running the residence and the farming as well. Their near sum of 400 cows produce 25 tons of milk in a half a week to the local dairy factory, Ingstrup Mejeri

Local goods from Vrejlev Monastery
The monastery co-owns the dairy factory 'Ingstrup Mejeri', where all butter and cheeses are produced with the milk and ingredients from Vrejlev Monastery. A unique choice of cheese could be the 'Kloster Osten' (monastery cheese), for instance. This cheese is matured in the monastery's own cellar. Buy it while you are visiting the dairy factory. Unlike Børglum Abbey, Vrejlev Manastery is not open for the public. But they do invite you into their every daily life on social media and for their annual monastery fair. On this given day in June, the Holst-family open the gates to the wide courtyard, filled with booths and stands selling artificial crafts and delicious food made from local goods.    
Nb. The monastery is not open for the public. 
VisitNordvestkysten © 2023