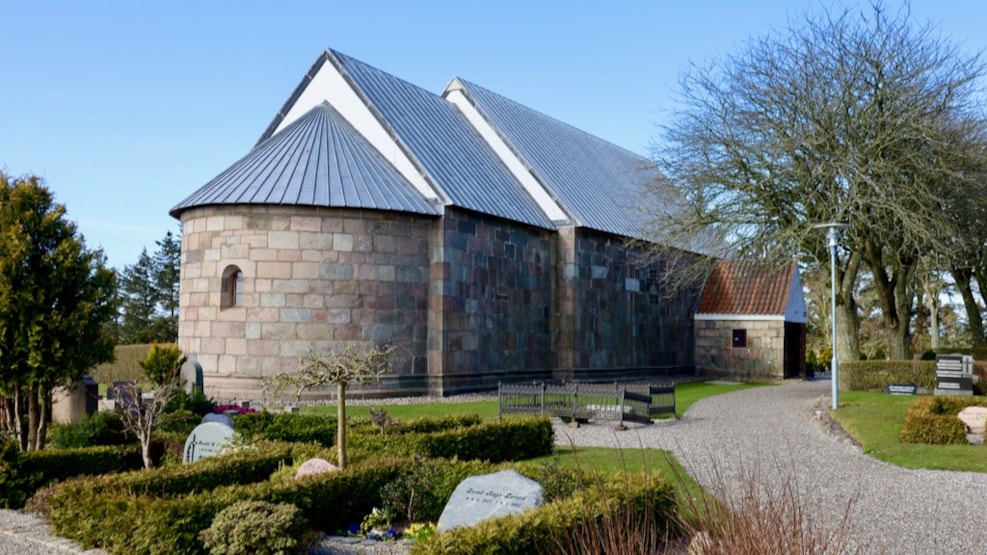 Vang Church
The village church Vang Church in Thy is a charred, Romanesque granite square church from the 12th century.
The church consists of a Romanesque nave, chancel and apse as well as a porch from 1794. Vang Church has a beautiful wide chancel arch. The windows only face south.
The altarpiece depicts the crucified Christ and is from approx. 1640
The Romanesque font of granite has the names of the evangelists engraved on the upper edge and a small lion relief on the basin.
The pulpit, which is very simple, has evangelist paintings in the arcade fields is from around 1600. Chair seats from the same time.
The porch is built of granite blocks from the demolished Tvorup church. In the porch is Denmark's smallest rune stone.
Airman Grave at Vang Cemetery
In the cemetery there is an RAF grave, a burial place for a pilot from World War II - a so-called Commonwealth War Grave.
On the night of April 19, 1945, a Halifax crashed from RAF No. 298 Squadron down into the North Sea. The entire crew perished. The weapons aircraft, Halifax NA344, was on its way to the reception site, Leif 231, at Fasterholt near Herning with weapons for the Danish resistance movement. The body of the pilot of the aircraft, Wt / O. Roland Franklin Mackrill, found drifted ashore at Vangså north beach. One of the plane's shooters drifted onto the beach at Bøvling Klit. He was buried on Sdr. Nissum cemetery. The remaining four men from the crew have not been found.
VisitNordvestkysten © 2023