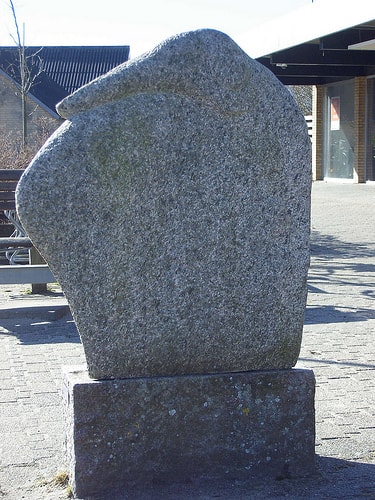 Uden Titel af Poul Erland
Untitled, (Uden Titel) Granite Sculpture by Poul Erland, 1980 Tårs
Is it a hare or a bird? A platypus or a penguin? The species doesn't really matter, because the artist has created an upright, organic form that will pique your curiosity.
Paul Erland's sculptures are usually abstractions of birds and other animals. This granite sculpture the small village square in Tårs is a good example of how the artist fantasizes about animal shapes

The little chubby creature that stands, huddled on its base, reminiscent both of a bird and a hare, but for Paul Erland  the task has primarily been about creating an upright, organic form!
The rest is up to the contours of the granite and the interpretation is up to the beholder.