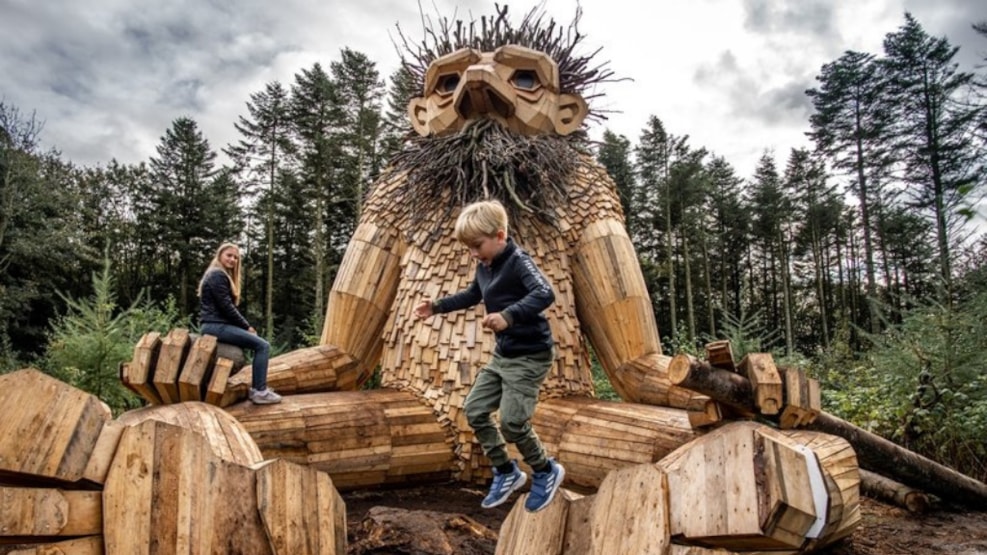 Troll Ask of Ashøj
Up on the hill Ashøj, which with its 93 meters is Thy's highest point, there is a troll hiding in the forest.
In a secret place, in the middle of a clearing, sits the troll Ask from Ashøj with a stone in one hand and a stick in the other. Through a treasure hunt of tracks in the forest, you can find out where Ash sits.
The troll must entice both guests and locals out and experience the beautiful nature, which is also part of Thy and very nice, even though it is not part of National Park Thy.
The troll was created by the international artist Thomas Dambo and represents the forces of nature. "If you treat nature badly, the trolls will come and beat you, eat your children or kill your hamster. But if you behave properly, it may help you build a nest, get up a tree or over the pelvis, "says Thomas Dambo.
Especially for families with slightly older children, treasure hunting in the green is a fun activity. And the adventurous tree creature not only serves as a destination for a walk in the green, but is also meant for climbing.
You will find the exact location and the tax card for it on Trollmap.
And when you are in Ashøje Plantage, finally visit the lookout tower and enjoy the view of beautiful Thy.
Also visit the giant troll WildEmil in Tinkerdal near Holstebro
Try if you can find the sleeping giant troll WildEmil, who takes a nap in a warm nest in Thinkerdal Skov just outside Holstebro. Read more about VildEmil and how to find him here.