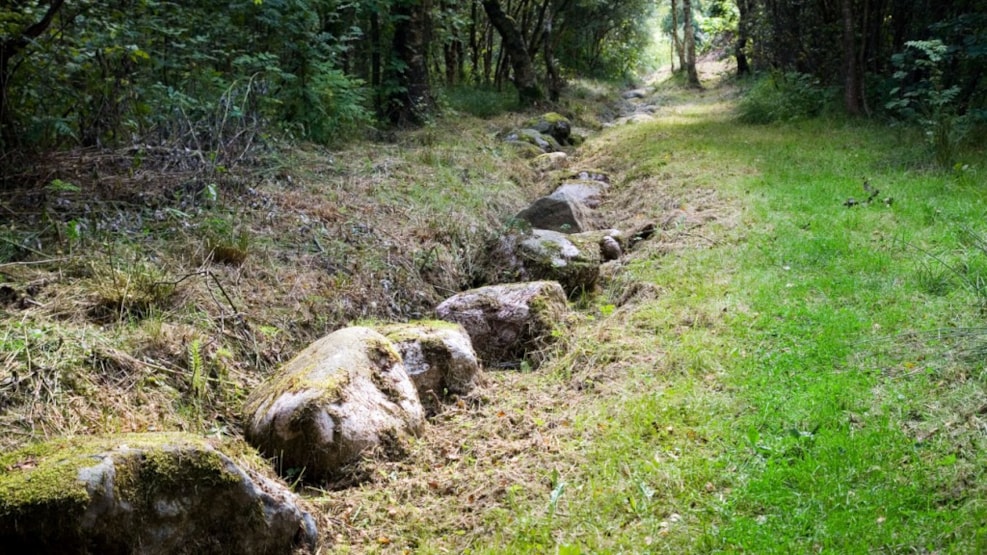 Trædestenene
The Tread Stones in "Store Vildmose - a Place of Meditation
At the bottom of the preserved Nørbjerg, also referred to as Aaby Bjerg, you will find a row of large stones placed at a suitable distance. The row starts towards north west and aims straight at the other hill, Sandels Bjerg, from where you have a magnificent view of the moor.
Myths and Legends
The Stones in Store Vildmose
The new church bell of the monastery Børglum Kloster annoyed the giantess at Thise. She complained bitterly to the troll, who had been her fiance for many hundred years, and he decided to destroy the church bell by means of a gigantic stone. He tried three times with no luck. The first stone hit Aaby Bjerg (the place of meditation), the second stone hit Sandels Bjerg, and the third one the hills of Thise. Consequently, none of the three stones hit Børglum Kloster, and the tread stones are now gathered at Sandels Bjerg in Store Vildmose.
The Robbers' Tread Stones in Store Vildmose
In the old days the moor was a dreaded place, an enormous raised bog, in which you could easily get lost, sink in, or may be even be mugged. Rumours say that the robbers lived at Sandels Bjerg, and the tread stones in the picture were placed by the robbers according to a very cunning system. The fact is that sometimes the robbers were chased after their robberies. The robbers knew the stones in Store Vildmose like the back of their hands, and the chasers did not jump far enough and fell into the moor!
VisitNordvestkysten © 2023