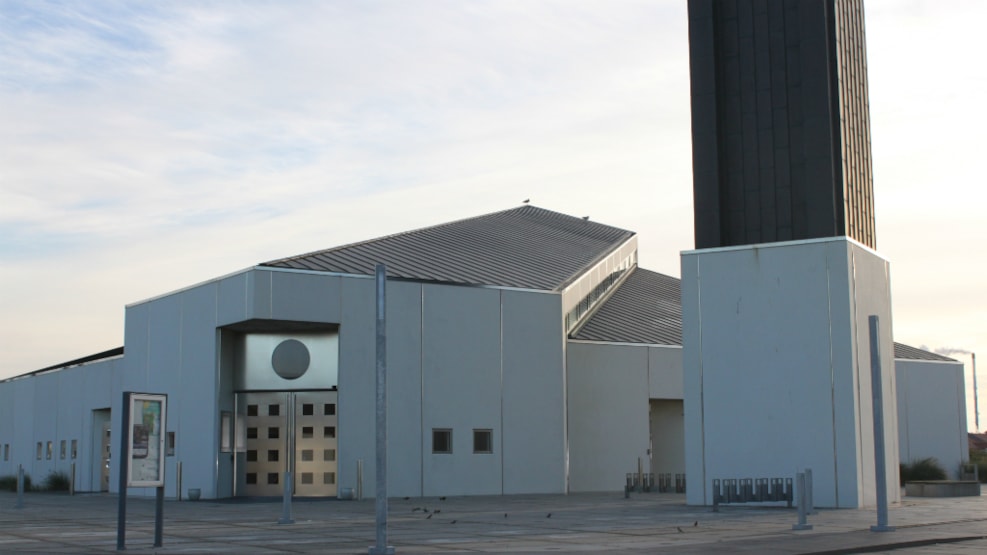 Thyborøn Church
The original church from 1908 was a traditional church building, which in 1936-37 was expanded to a cruciform church with a capacity of 350 people.
In 2009, the church was demolished when major settlement damage made a much-needed renovation a costly affair. The new church was ready in 2011.
Original effects from the old church such as the baptismal font, organ and altarpiece have been recycled in the new church. This also applies to the bell tower from 1969.
The modern church is built around the five meter high and three meter wide altarpiece by Niels Østergaard "The Blessed Day".
Church decoration
Painting by Peter Mock with the title Towards the light measures 485 x 215 m and is painted in oil on canvas with a few fields of gold leaf, which are connected to the altarpiece. Central to the image is the light, where the lighthouse and light rays form a cross, which is located on rocky ground - here the hip stone.
To the left are ships on the dark sea, the compass rose and celestial bodies. Via the LED LIGHT you lead to the right side, to the safe harbor with the hometown's well-known silhouette.
The idea of the picture is to depict the basic conditions of the fishing community in finding their way at sea - as well as through life.