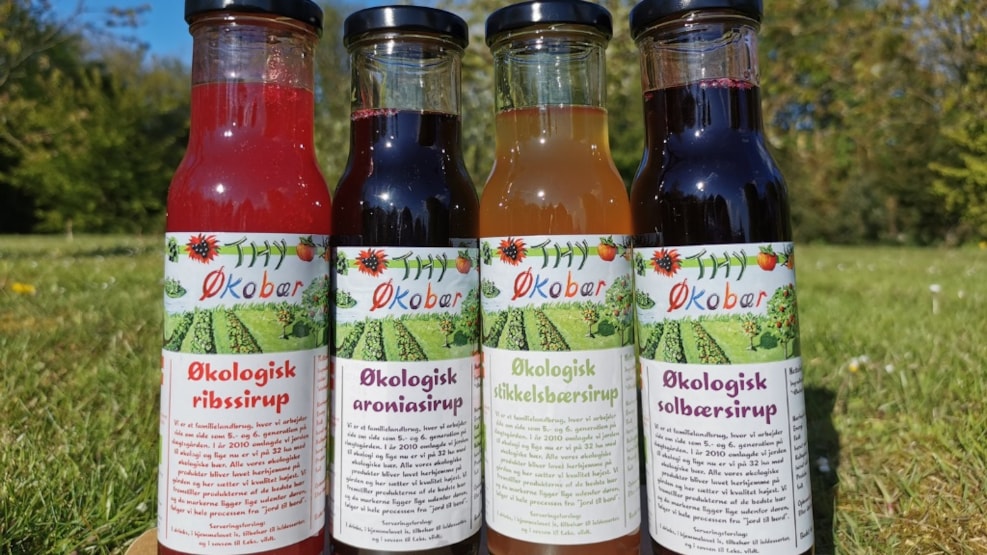 Thy Økobær - Organic Berries
Thy Økobær is a family business and a family farm, where 5.-6. generation work together to grow organic fruit and berries on the family farm.
Thy Økobær (organic berries) started as an alternative agriculture, but has now also become a processing company, which includes nine different cultures: Blackcurrant, blueberry, gooseberry green / red, sea buckthorn, white / pink and red currant and aronia. The plan is to expand with apples.
Thy Økobær harvest the berries themselves and make ready-to-drink juice, puree, syrup and apple juice when there are apples. The products are made exclusively from own berries and are organic. The process from farm to fork is in the hands of the company itself.
The products:
Juice: Blackcurrant, green gooseberry, white currant, white currant with sea buckthorn, white currant with aronia, aronia and red currant.
Puree: Black currants with white currants, blueberries with white currants, green gooseberries and red currants.
Syrup: Blackcurrant, green gooseberry, aronia and red currant.
Berry production started out with black currants. Later, other cultures have emerged. For example, white currants, which were not found elsewhere in the country. When they were to be harvested, it turned out that many of them were pink. By mistake, Thy Økobær has noe got pink currants - a rarity.
Pick your own berries:
Get a wonderful nature experience for both old and young while you pick berries and have a good chat with the hosts. The dog (who has become a kind of mascot for the place), enjoys running around and playing ball with the kids.
Also visit Thy Økobær's small farm shop, where all the products can be bought.
NEW!
Thy Økobær supply berries for Vild Is (Wild Icecream), which is soda ice cream from Thy, which is made from local organic ingredients. Read more about Vild Is and where you can buy them.