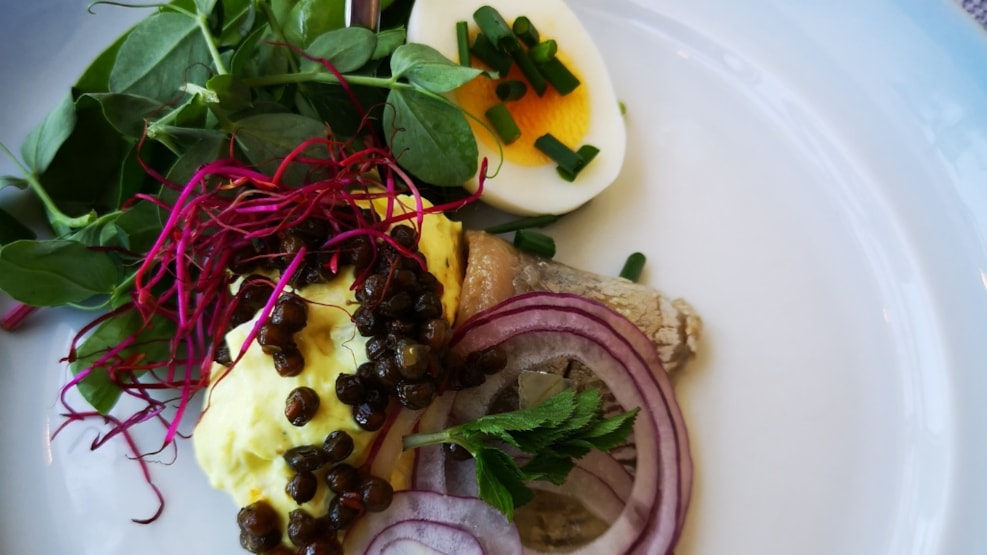 Stenbjerg Kro & Badehotel's Restaurant
Visit Stenbjerg Kro & Badehotel's restaurant and experience Nationalpark Thy on the first floor.
Stenbjerg Kro is located in the heart of Thy National Park, just 200 meters from Klitplantagen and 2 kilometers from Stenbjerg Landingsplads.
Stenbjerg Kro offers region-related dishes, homemade spice schnapps and specialty beers from Thisted Bryghus.
The herbs are grown in your own garden and you will find things that you might have forgotten could be eaten.
For example, try our famous National Park Platte based on local produce.
In our quest to achieve the region's robust result, we have created a menu, based on some of what lives & grows in the National Park in Thy and on Mors.
Own salads and spices grown on high
Stenbjerg Kro wants to produce as many vegetables as possible itself. The well-known high benches require a lot of space, so the inn has switched to growing lettuce in upright pipes in the greenhouse behind the inn.
The salad is grown according to the Aquaponics method - that is, the vegetables do not grow in soil, but in "Grodan blocks", which can be compared to rockwool.
It has proven to be an effective way to grow fresh vegetables. The inn harvests large quantities of many different delicious salads. The plants continue to grow once they have been cut down.
The method is not cheaper, but an absolutely more fun way to grow herbs and salads yourself and thus ensure the best possible quality for our guests.
Special food wishes
Emphasis has been placed on taking into account sugar, gluten and lactose intolerant. Of course, there are also vegan dishes on the menu.
The wines are all organic, there are even a few vegan ones.
There is a cozy atmosphere. Choose between sitting inside the restaurant, in the garden room or on under the covered terrace.
It is necessary to book a table on Stenbjerg Kro's website or by phone (+45)9793 8065.
Overnight in Stenbjerg
Rooms and bungalows can also be booked on Stenbjerg Kro's website or send an email to kro@stenbjerg.dk 
VisitNordvestkysten © 2023