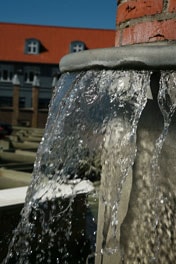 Springvand - De 5 Hermer
Helledie, Niels: The Five Hermes, 1994. Sindal
This magnificent fountain spreads through the town like a baroque work of landscape art. The hermes, protectors known from Ancient Greek mythology, protect the town, and keep an eye on comings and goings so they can warn of any danger.
The fountain consists of 5 columns with a head on top, at the bottom 5 other heads "let water out of the ears". The water runs to a tower, where sounds come from. Over the next 30 years the sounds and the intervals will change constantly.