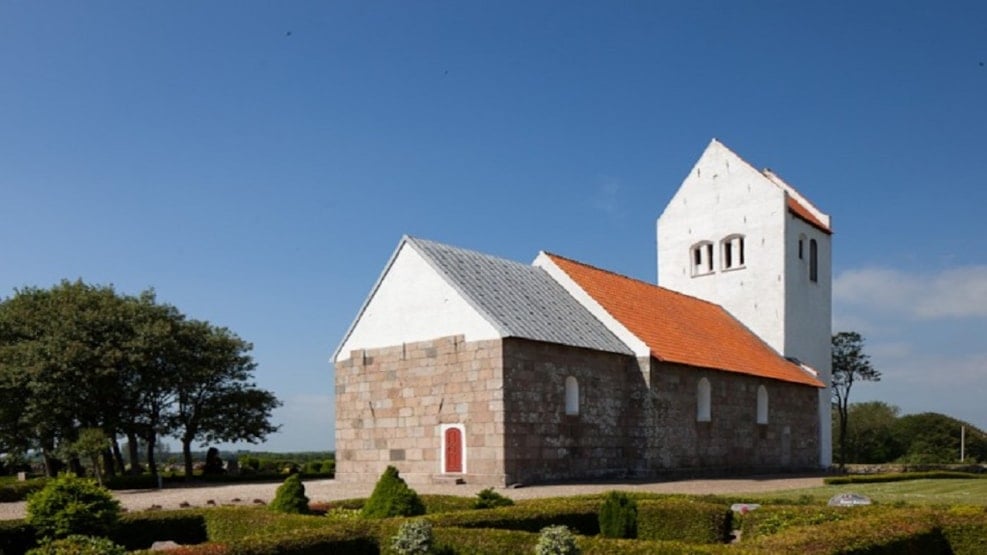 Øsløs Church
The village church Øsløs Church in Thy has a Romanesque choir and nave, while the tower dates from around 1500.
The windows on the south side of the nave are believed to be from the Reformation period.
The north window in the chancel is original, while the two small windows on the north side of the nave are newer with the recycling of Romanesque squares.
The late Gothic tower has pointed arches at the bottom. The bell hangs in the high glam hole on the north side of the tower.
The clock is from 1679.
The Arc de Triomphe is well preserved with plinth stones and differently profiled power stones that run around both corners.
Traces of frescoes from the 15th century have been found, which were whitewashed in 1916.
The benches are from 1877-78.
The altar table consists of a square-walled pillar with monolith table top. In the table top there is a saint's tomb. It corresponds to the altar table in Vesløs church.
The altarpiece was erected in 1923. The picture was made by Troels Trier. The motive is Jesus as a 12-year-old in the temple.
The baptismal font is typical of Thy with the characteristic square foot with the four sharp corner leaves and at the top a round rod.
Baptismal dish and jug are of more recent date.
The pulpit is from 1600-1610.
The nave was donated to the church in 1909 by tailor I.C. Gold hammer and farm owner Peder Olesen. It is not known who did it.