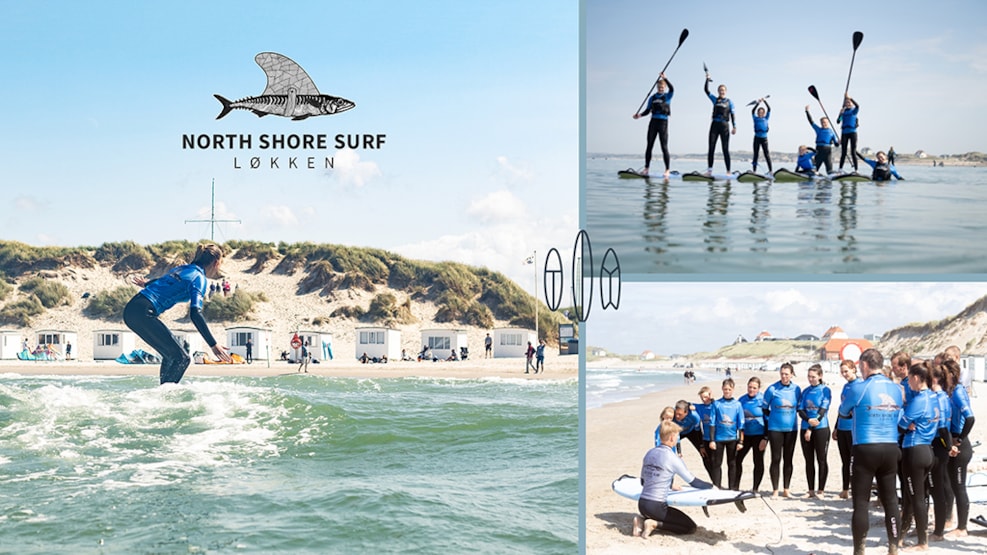 North Shore Surf
Surf through your vacation in Løkken!
Join North Shore Surf in the waves of the North Sea! North Shore Surf School offers surf courses for you, your family and friends. Løkken Pier is one of the best surf spots, also for beginners.
The low sand dunes at Løkken Pier and the qualified instructors make it possible for you to learn how to surf. They offer all sorts of surf equipment and also a café with an ocean view! Come and visit them or learn more about them on their website. 
So much more than surf boards
North Shore Surf team has more to offer than just surfing. If you are just not the water type, but more of a sea admirer from the distance, you can enjoy the various activities they have to offer. Their wide terrace is spacious, and you can enjoy the sight of the sea with some freshly brewed coffee from their café. During the summer they arrange happenings - like BBQ Nights. Just bring your own steak and veggies - and a smile. For the morning people they offer yoga lessons and cozy activities to keep the children distracted. Read more about their activities on our event-calander, or look them up on their website or facebook-page.  
Standup Paddlingboarding - SUP
Standup Paddleboarding or SUP gives you another water experience. SUP is a great sport for activating your whole body. As it strengthens your body, it is also a good meditation exercise. Hear and feel how the water slams the board. But no worries about the waves, since you easily can paddle around. The board you use for SUP is larger and heavier than regular surf boards. The paddle is quite similar to the canoe-paddle, with a blade, shaft and handle. By propelling the paddle, you are mobile on the water surface. Enjoy the ocean view, paddle out to Rubjerg Knude Lighthouse or paddle near by Løkken Pier. North Shore Surf has all of the equipment you need. You can either rent it or take lessons.
VisitNordvestkysten © 2023