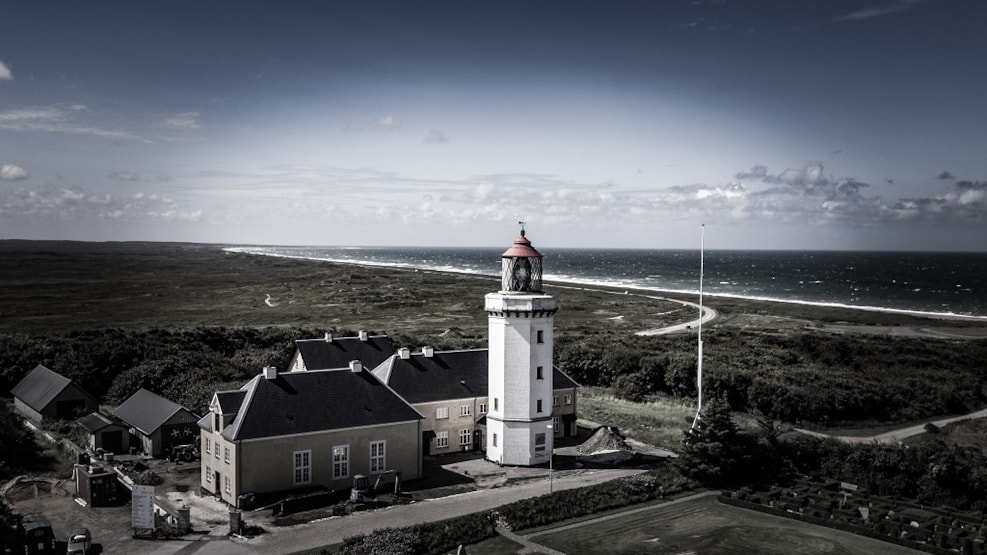 The North Atlantic Lighthouse in Hanstholm
The North Atlantic Lighthouse in Hanstholm - the meeting place between art and nature. The Hanstholm Lighthouse of the future works with art, nature and people.
The lighthouse is the venue for professional and local groups who together explore and convey the relationship between nature, art and humanity as it unfolds in the present and has unfolded in history. "Nature in art and art in Nature" is the starting point for the activity.
Hanstholm Lighthouse is a marker and landmark for Denmark's northwest point. The listed building of the lighthouse complex were completely renovated in 2015, and the interior refurbishment was finished at the end of 2017.
The lighthouse is located at the northern border of Thy National Park and Hanstholm Wildlife Reserve, with views over large unspoiled dunes, forest and the North Sea. During World War 2, the biggest and strongest German bunker complex of the "Atlantic Wall" was in this area, and more than 50,000 people visit the bunker museum, every year.
The small town of Hansted underwent a major upheaval in the 1060s, when the government built Hanstholm Harbour, and a new, bigger town shot up to become what is now Denmark's largest fishing port.
In addition to access to the lighthouse itself, overlooking the sea, harbour, village and wildlife reserve, the lighthouse is a place for exhibitions, workshops, events, retreats, artists in residence, etc. Agreements have been made for the use of the lighthouse by the local music school and the tourist office during the summer period. There is also a new hiking path - the northern gateway for Thy National Park.
The large lighthouse complex - including a lifeboat house, shipyards and the lush gardens leading up to the slopes of Denmark's last wilderness - offers many more possibilities and the vision is that very soon Hanstholm Lighthouse will be the focal point of Hanstholm, and that it will positively affect the area locally, regionally and nationally.
Spend the night in the assistant housing at Hanstholm Lighthouse
You can have peace and quiet to immerse yourself in the lighthouse by staying overnight in one of the four assistant apartments, which contain an entrance hall, kitchen, bathroom, living room, bedroom and a view of the North Sea. Incl. Linens and towels. Pets are not allowed.
Read more and book your stay here.