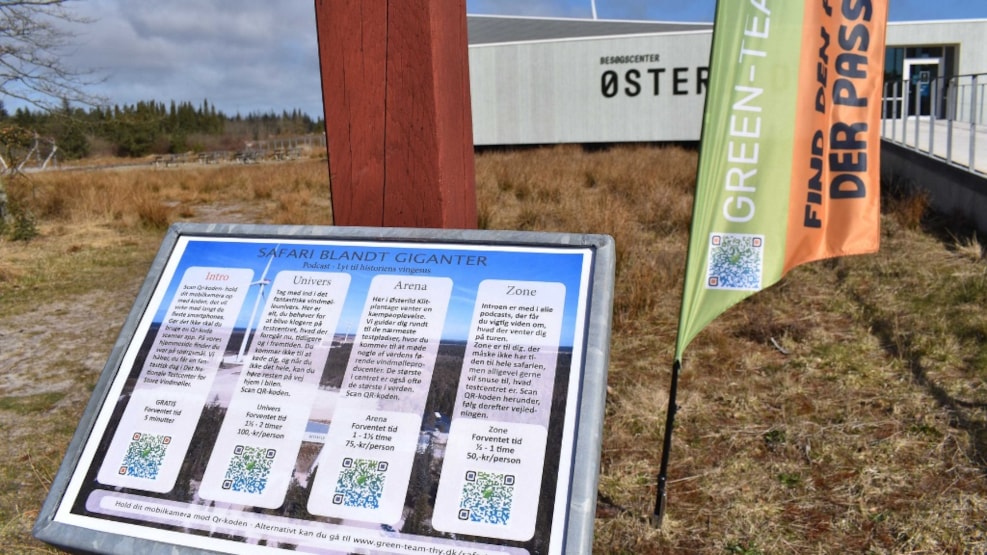 Nature- and energy tours - Green Team Thy
Experience the green wave up close. Thy is at the forefront when it comes to sustainable change.
Here you will find the world's largest laboratory for renewable energy
Green-Team-Thy shows you where you can experience the green technologies that are the backbone of Thisted Municipality's desire to be Denmark's leading climate municipality.
Østerild Test Center for large wind turbines
In Østerild you can experience the national test center for wind turbines operated by the Technical University of Denmark. The area is used by the world's leading wind turbine manufacturers to test the world's largest turbines.
Here you can experience wind turbines that are up to 330 meters in height and with colossal wingspan.

Nordic Folkecenter for renewable energy
In Sydthy you will find the Nordic Folkecenter for Renewable Energy, which opens its doors to visitors every day.
In the next few years, the Nordic Folkecenter will be in a rapid development, where there will be a focus on popularly rooted energy projects. When you visit the Folkecenter, you can experience everything from wind turbines over solar cells to intelligent management of renewable energy.

Energy point Frøstrup
The last shot on the trunk is Energipunkt Frøstrup. The association Hannik is responsible for the operation of Energipunkt Frøstrup.
In the course of 5 years, the small North Jutland village managed to transform a sad and dilapidated town center into a powerhouse for energy and community. In addition to the creation of the new Energipunkt Frøstrup, the old inn has been renovated, the football club's clubhouse has been expanded and a beautiful activity space has been created in the center of the city.
In the house are shown a number of functioning soil for water and air for water and heat pumps.

Thy National Park
The wind from the sea can be quite strong in this corner of Denmark - and has been for millennia. This means long periods of sand drift, which has created significant dunes and wet depressions and a myriad of lakes, which together have become the very special dune-heath landscape found along the West Coast in Thy. A landscape and a nature content that is quite unique, and which was therefore named a National Park in 2008.
Alien Energy Walk - Take a walk on the wild side
A hike on the edge with a view of Hanstholm Wildlife Reserve, the northern part of National Park Thy. Here you will be guided on a route from the harbor up over the slope and around the edge to Denmark's largest wilderness. The story tells of nature, renewable energy, wave energy and infrastructure. Book your tour here.
The story starts at Færgegrillen at Hanstholm harbor.