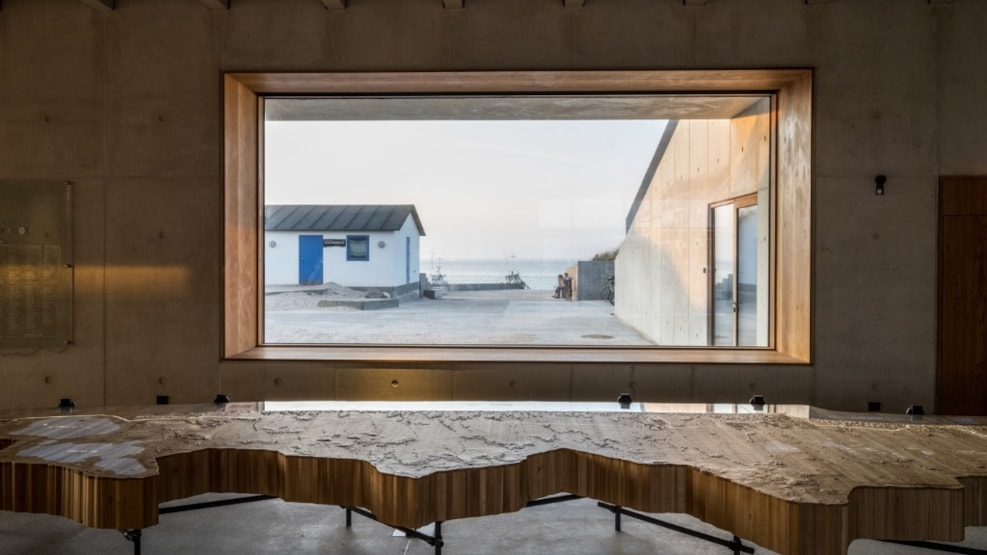 National Park Center Thy - Vorupør
National Park Thy looks forward to welcoming you to the new National Park Center Thy, which is located in an urban area on the edge of Nr. Vorupør. With one door facing town and the other door the wild.
In Nationalparkcenter Thy, volunteer national park hosts welcome guests and locals, and help them well on their way to great nature experiences in Denmark's largest wilderness.
The 700 m2 welcome center is lovingly built into the existing dune. The construction process may look violent, but the dune will be recreated.
The building houses a 300 m2 communication space, where a landscape model provides an overview of the landscape's character, paths, cities, experiences and stories. The center will be open to visitors most of the year, and it is staffed by volunteer hosts - as is also the case in the information house at Stenbjerg Landingsplads and Lodbjerg Lighthouse.
There are also new public toilet facilities in connection with the National Park Center, which will be open almost 24 hours a day, all year round.
The center also houses meeting rooms and office space for the National Park Fund's board and administration.
THE LANDSCAPE MODEL
In the heart of the 300 m2 large communication space in Nationalparkcenter Thy, the large landscape model is located. The model provides an overview of Thy National Park - the character of the landscape, paths, towns, experiences and tales via a digital layer.
On a regular basis, a film is played about the formation of the landscape, including the creation of the Stone Age cliff and the ravages of the sand escape periods.
With the landscape model, you can always hear tales about 12 of the national park's points of information. The information and tales are told in Danish, English and German.
THE LANDSCAPE WALL
The landscape wall shows how the dune landscape is divided into different plant communities with the beach and the white dune furthest to the west and the gray dune and dune heath further east. Farthest to the east is the planted dune plantation. Most animals and plants are depicted on the gray dune and the dune heath, where there is the greatest diversity of species.