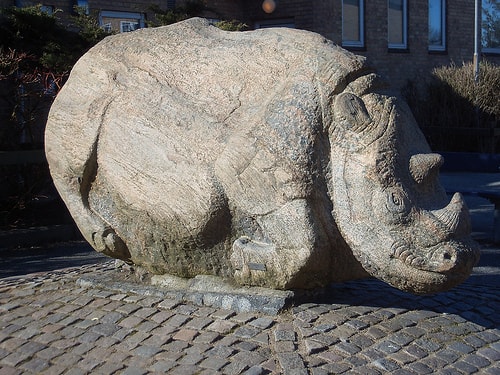 Næsehorn (Rhinosceros)
Rhinosceros,(Næsehorn) Granite Sculpture by Sven Bovin, 1973, Tårs
The rhino is rooted in place and oversees the children in the playground. Children may safely crawl on its back, it got used to that long ago.
Heavy and clumsy, the rhinoceros stands in the middle of the school playground. But do not be mistaken, it's vigilant eyes see everything.

Sven Bovin has created a wide range of animal sculptures and he was especially interested in exotic animals that we normally only meet at the zoo, circus or in a Natural History Museum. A mammoth, a trained bear - and a rhinoceros.

Maybe a rhinoceros is a bit foreign for everyday life in Tårs, but it's horns, it's wrinkled brow and it's broad back are perfect for clattering on and the sculpture is naturally at home in the school playground, where it stands to the benefit of all the children, every day.
VisitNordvestkysten © 2023