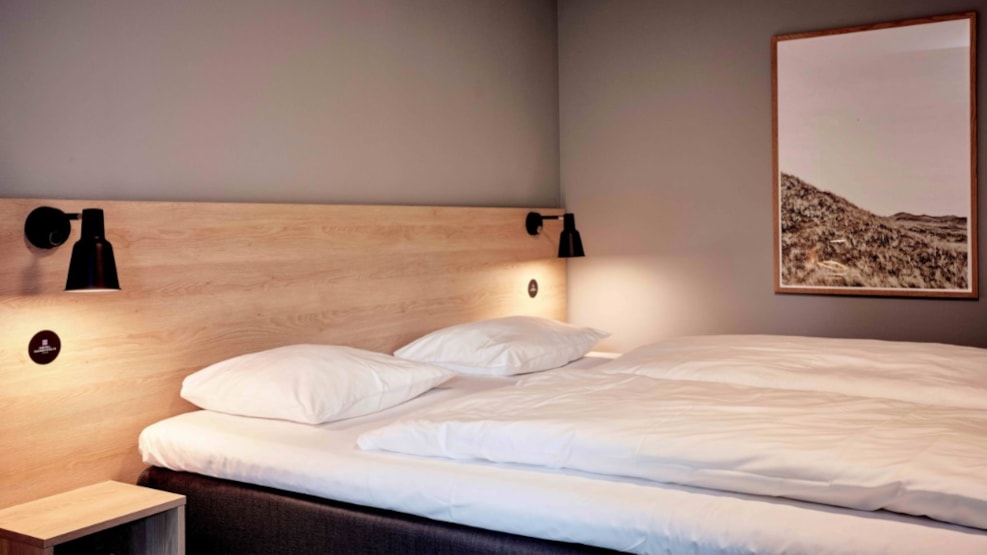 Green Experience
Montra Hotel Hanstholm
Welcome to Montra Hotel Hanstholm.
High up surrounded by fresh air, wind, sand and water as well as a unique and varied natural kingdom without its equal, you will find Montra Hotel Hanstholm like the gem in the centre of it all.
At Montra Hotel Hanstholm you have the wonderful North Sea as your nearest neighbor, only 10 km from Cold Hawaii and if you are into the calmer waters, the Limfjord and Vandet Sø and Nors Sø are close by.
The lakes are surrounded by forest and dune plantations, where there is an opportunity for a brisk walk along the marked paths.
Montra Hotel Hanstholm is also located on the edge of Thy National Park, Denmark's first National Park, the National Park which stretches over 4000 ha of dune heath landscape with a rich wildlife.
Hanstholm also offers historical experiences from World War II, as the area is packed with bunkers which were part of Northern Europe's largest fortress. Today there is a museum with an exhibition about the "Atlantic Wall". Get more information about Hanstholm and the surrounding area via the Hanstholm guide or the Hanstholm brochure.
Take an overnight stay in Hanstholm with us and indulge in the unique tranquility you can find in the hotel and in the area.
Hotel facilities such as an indoor heated swimming pool and sauna can be used or, weather permitting, a round of mini golf on its own courses. Montra Hotel Hanstholm also has meeting and conference rooms that can be booked as needed or in connection with a course stay.
Welcome!
VisitNordvestkysten © 2023