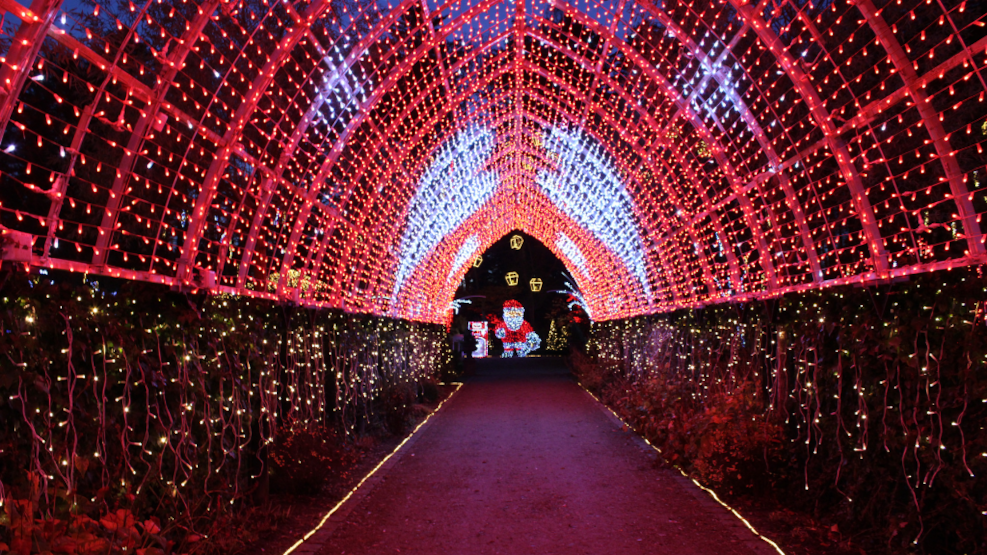 Magisk Jul i Skulpturparken Blokhus
Magical Christmas in Skulpturparken Blokhus
Look forward to another adventurous and magical Christmas with Christmas light and sound show in the Sculpture Park from 5 November. It is decorated according to all the Christmas rules of art with impressive decorations.
The entire park is lit by more than 2 million Christmas lights in fantastic colors and designs - including Europe's longest, bright Christmas tunnel, a luminous kissing pergola, a giant Christmas tree of 17.5 meters, Christmas canes and reindeer, beautiful gold carriages, illuminated snowmen and Santas, twinkling poinsettias, love tree with beautiful red Christmas hearts, Disney Christmas figures, harp playing angels and much, much more.
This year's large and beautiful sand sculptures, shaped from the theme "From Ice Age to Present" are also lit up with colored Christmas lights, which change color, and the park's other unique works of art and sculptures are beautifully combined with the unique Christmas decorations. The sculpture park, which is over 20,000 m2 in size, simply exudes genuine Christmas coziness in an absolutely special class.
Unique Christmas show
In addition to the many Christmas lights, Magic Christmas offers a unique light show that is specially designed for Blokhus, and where the music plays with the rest of the many Christmas lights, so the whole park magically sparkles every day at 16, 17, 18, 19 and 20 pm.

Experience Magical Christmas every day in the period 5 November to 30 December from 11 am - 9 pm (Closed December 24 and 25).
The Christmas Market is open from 3 pm - 8 pm.
Light and sound show takes place every day at 4, 5, 6, 7 and 8 pm.
VisitNordvestkysten © 2023