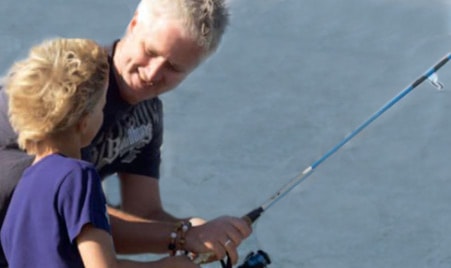 Løkken Fishing park
Fishing in the nature
You can look forward to amazing nature surroundings in Løkken Fiskepark's 5-6 hectare of fishing paradise, only 4 km from the center of Løkken.
Enjoy the unique nature with the wonderful sense of being close to the sea, where two big lakes with a lovely sandy bottom are brought together into a wide channel. The fishing park lies in a valley, surrounded by an area with a beautiful forest. These surroundings provide ideal fixed weather conditions, with windless environment around the lakes.  
Rainbow trouts, brown trouts and golden trouts from 1 to all 10 glorious kg can be caught in the big lakes. During high season, the fish is released daily, while in the off season it is released 1-2 times per week. There are always good chances to catch fish in Løkken Fishing park. 
Just remember to take some lunch with you!
Along the lake, there are tables and benches, as well as some shelter, in case of rain. In other words, it is a good place to enjoy a nice meal in beautiful nature surroundings. If you want easy lunch, or something sweet after, in high season (1/6-1/9) you can buy toast, mini pizza, ice cream, chocolate or a refreshing drink from 9 to 16. Outside of season, the kiosk is open from 9 to 12. If you are taking the whole family, team, company or school class out fishing, we can start the grill for you. 
Top facilities
The lake and the surroundings are not only handicap-friendly but also modern. The last couple of years, Løkken Fishing park has been through a big renovation, which has added men and women's toilet, grill space, good parking, place to rinse fish and a kiosk with refreshments.
Night fishing - a unique experience 
Have you tried fishing at night? You get a different and unique fishing experience, when darkness falls and the shy trouts come up. During high season, 1/6-1/9, there is night light, so you can try yourself at night fishing. It is an amazing experience to be out on a warm summer night and look out over the lake, surrounded by darkness and no other sound than the nature. 
Opening hours:
The park is open year round.
Check prices and other info here.
We are excited to welcome you to Løkken Fishing park!