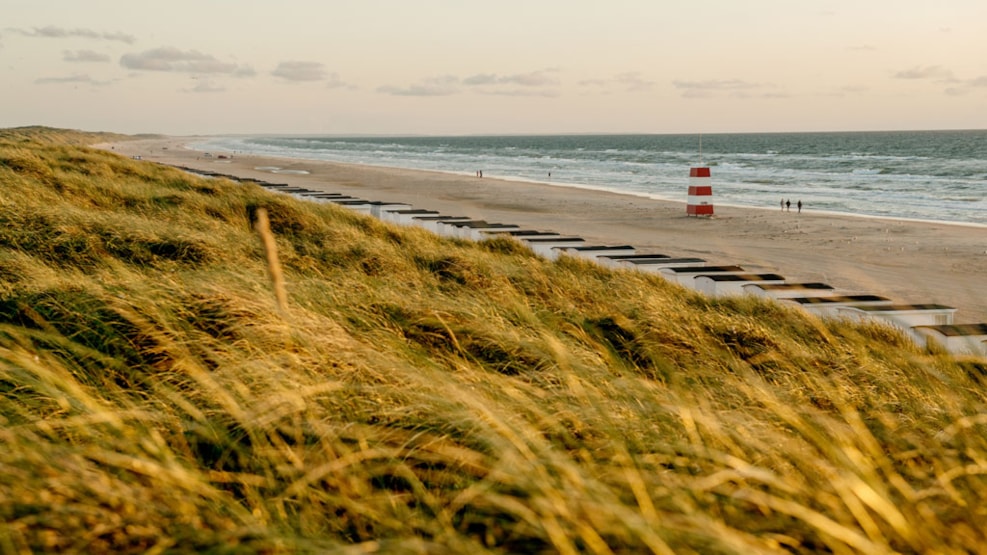 Løkken Beach
Miles and miles of coast, white warm sand, salty waves and hundreds of little white bathhouses welcome you in Løkken. A flag with three stars indicates water of high  quality, a clean beach and tidy public conveniences.
Løkken Strand - Where you can relax and have great experiences!
The White Town

Feel the soft, warm sand between your toes on one of Northern Europe's best beaches for swimmers – Løkken Strand. The beach is 10 kilometres long, with fine white sand, and has both areas where cars are allowed and car-free zones. In the summer, there are five hundred private, white beach huts on the beach, reflecting both the sunlight and moonlight and giving Løkken its name of "the White Town". Between Ndr. and Sdr. Strandvej there's a sand competition for children, which is a proud tradition at Løkken Strand. This stretch of the beach is of course car-free.
Driving on Løkken Strand – the adventure continues
If you want to drive along the seaside to Nr. Lyngby towards the north, you should go from the town centre via Ndr. Strandvej. Along this stretch, you can see remains from the Second World War. Many bunkers have become visible as the sea has slowly eroded the sand dunes. Today the bunkers can provide shelter on days when the western wind blows sand around. It's also possible to climb on and inside the old bunkers. However, you should be careful as there may be sharp edges and rusty iron sticking out. If you prefer to go south along the beach to Blokhus, then drive down Ny Strandvej.
Løkken Mole (Løkken Pier)
Before you reach the beach near Sdr. Strandvej, you may want to park your car and walk down to the pier. Today, it's still used by local fishermen and from there you can watch the fishing boats being pulled out to the sea and back onto land. If you want your evening meal to include fresh fish, you can strike a deal with the fishermen, who have other fish to offer than just plaice! The pier is also very popular among anglers, and it's also a great place to eat an ice cream while enjoying the sea view. However, you should not jump into the sea from the pier. But there's a perfect place to sit down and swim in the sea not far from the pier.
VisitNordvestkysten © 2023