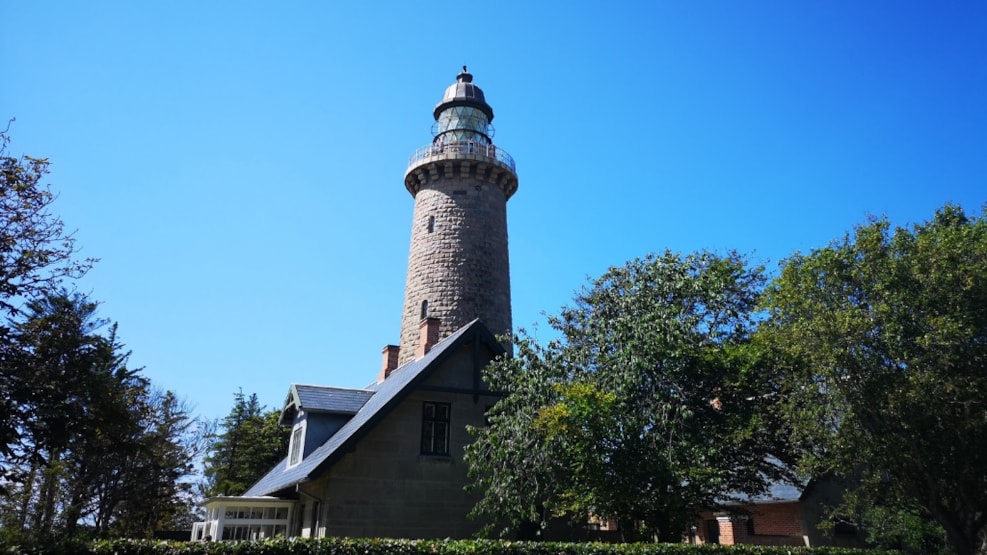 Lodbjerg Lighthouse in Thy National Park
In the centre of Denmark's largest wilderness - National Park Thy - lies Lodbjerg Lighthouse.
The lighthouse was built in 1883 of granite blocks from Bohus in Sweden and is located on a 13 meter high moraine hill. The lighthouse itself is 35 meters high and a little bit crooked, as during World War II they someone tried to dig a tunnel from the lighthouse to a bunker at the back of the lighthouse.
The blink can be seen 35 km away on the North Sea. Until 1932, Lodbjerg Lighthouse was petroleum operated. After this, a number of automatics and light bulbs were installed. The lighthouse was fully automated in 1967.
Today, ship traffic has GPS - but Lodbjerg Lighthouse is still lit.
As a visitor, you can access the lighthouse for a modest fee.
From the top of the lighthouse you have a fantastic view of a rugged landscape, dominated by the dune plantation, the dunes and the rugged sea dunes. You have a view the Limfjord to the south, far inland to the east and let your gaze glide over unspoiled nature to the north.
Lodbjerg Lighthouse was restored in 2019 and has a beautiful exhibition with the lighthouse's history from the beginning of construction until today.
In the lighthouse keeper's residence, volunteers run a small café, which offers coffee and cake.
An automatic door opener / shutter has been installed in Lodbjerg Lighthouse. This means that the lighthouse is open every day from 07:00 - 21:00.
Information house about National Park Thy at Lodbjerg Lighthouse
When you visit Lodbjerg Lighthouse, you can meet the volunteer lighthouse keepers and hear them talk about life at the lighthouse in different periods, the dune's rare plants and much more about the lighthouse's history and the area's nature.
Thys National Park's volunteer lighthouse keepers receive guests at the lighthouse on Thursdays, Saturdays, Sundays and public holidays through October.
You will find the lighthouse keepers in the courtyard between 11.00-16.00.

At 11.30 they invite guests on a guided tour around the lighthouse.
Activities in Thy National Park
The lighthouse is the starting point for walks out into Thy's most pristine natural landscape - the dunes between Lodbjerg and Lyngby.
A marked path leads to the high dune Penbjerg. East of the path are 9 Bronze Age mounds, which are very difficult to spot.
Close to the lighthouse there is a cozy campfire site and shelter.
Travel sustainably in North Jutland
Getting around North Jutland with public transport is effortless. Plan you trip with bus, train or 'Plustur' on rejseplanen.dk. If you book a 'Plustur', you will even be driven from the station straight to your doorstep.