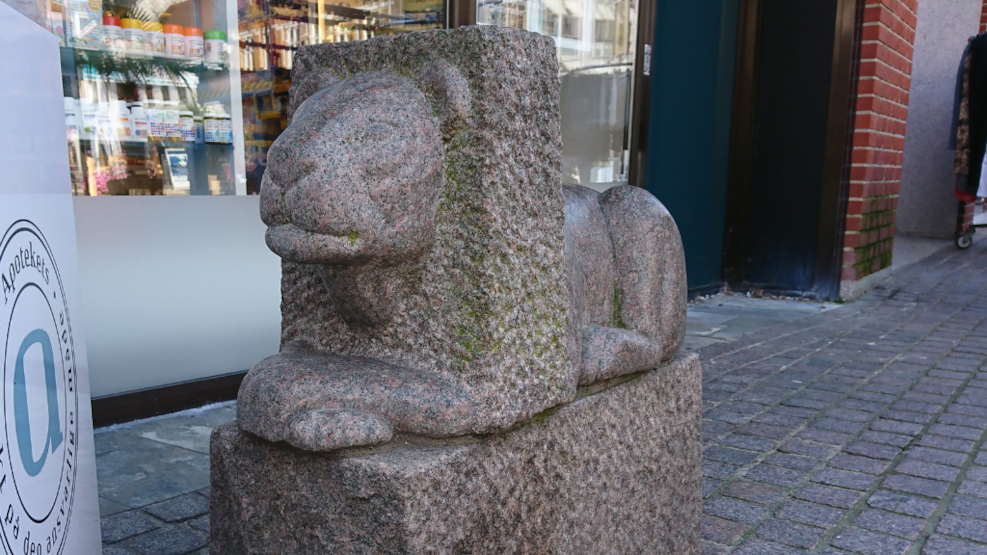 Lion of Bornholm
Egyptian inspired granite lion sculpture in front of the Løveapoteket (Pharmacy) in the pedestrian street in Holstebro.
For pharmacists Per Østerbye's 50th birthday, his wife got the idea for this artwork, which should wanted in their garden. However, the pharmacist wanted it differently and thought that the Egyptian-inspired lion should stand in front of the Lion Pharmacy. The wife, Grete, went along with it and now it is placed in front of the pharmacy where it adorns the entrance. The reason for it being Bornholm granite used for the sculpture is because Per Østerbye comes from Bornholm (Bornholm is a small danish island in the Baltic sea).
When Per Østerbye retired in 2000, he handed a gift certificate to Mayor Kurt Nygaard. As it turns out, "Lion of Bornholm" is now part of Holstebro Municipality's art collection and fund and will continue to be located at its current location at the Lion Pharmacy or may be moved to another appropriate location.
VisitNordvestkysten © 2023