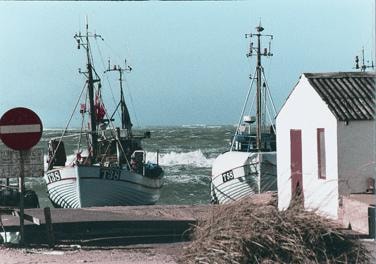 Lild Strand coast
Fishing lake for angling.
Lild Strandkær:(dune lake)
Lild Strandkær is a natural, elongated dune lake, parallel to the coastline, quite close to Lildstrand. Since the lake is in danger of overgrown reeds, forestry district has arranged grazing on the northwest shore. The lake contains a fascinating flora and fish species, such as eel and pike.
Driving directions: Drive along the coastal road to Lildstrand. Turn left onto Strandkærvej. Continue to the parking area, then walk about 300 m to the south east.

The lakes of the Nørklit in Lild dune plantation:
The lakes are former gravel pits. They are pretty deep, so be careful when walking along the shore. Fishing is allowed, but only from the side of the lakes, which faces the campsite. The lakes have pike, perch and roach. In the immediate vicinity of the lakes is a primitive camping area with fireplace, tables and benches and shelter for the night.
Driving Directions: From Gl. Aalborgvej (by 29.5 kmmærket) turn left onto the forest road Søvej. Stop at the parking area, then walk about 600 m along the Road.
VisitNordvestkysten © 2023