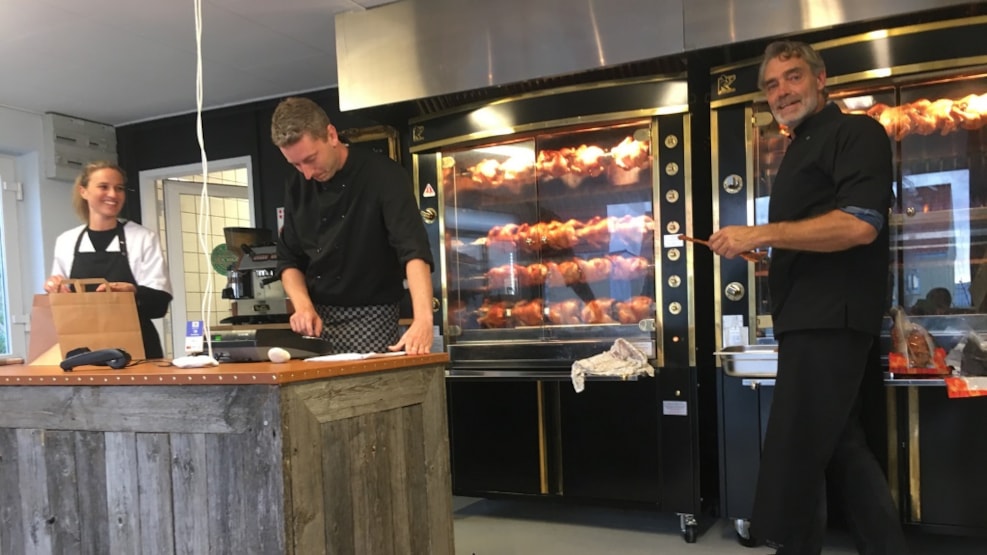 Le Garage - Bar and Grill
Unique restaurant and bar in Klitmøller - Cold Hawaii in Thy.
The idea for Le Garage came after a few years in France, where we lived and drove around a lot between ski resorts. Often, dinner was a flame-grilled chicken from the supermarket ingested standing under the bib before we were to move on.
Our goal is to create a cozy place where you just pop in for a coffee or beer. The "engine" behind it all are 2 large French rotisserie ovens, where no later than kl. 16 orders his chicken for collection between kl. 17.30-18.30.
So a kind of aftersurf atmosphere.
The menu is simple
In the evening a flame-grilled chicken, either free-range conventional or organic. In addition, it is possible to supplement with potatoes and salads. Coleslaw or broccoli law. Sometimes different.
In high season we also serve a pork roast sandwich, where the meat is cooked in the rotisserie oven.
For vegetarians, we serve a delicious hummus salad.
Note that chicken is an evening dish, and only as take-away.
In addition, we offer a delicious soft ice cream from Ryå Dairy, Lavazza coffee, French and Chilean wines, red, white and rosé, draft beer and Cold Hawaii beer from Thisted Brewery and Tanqueray gin.