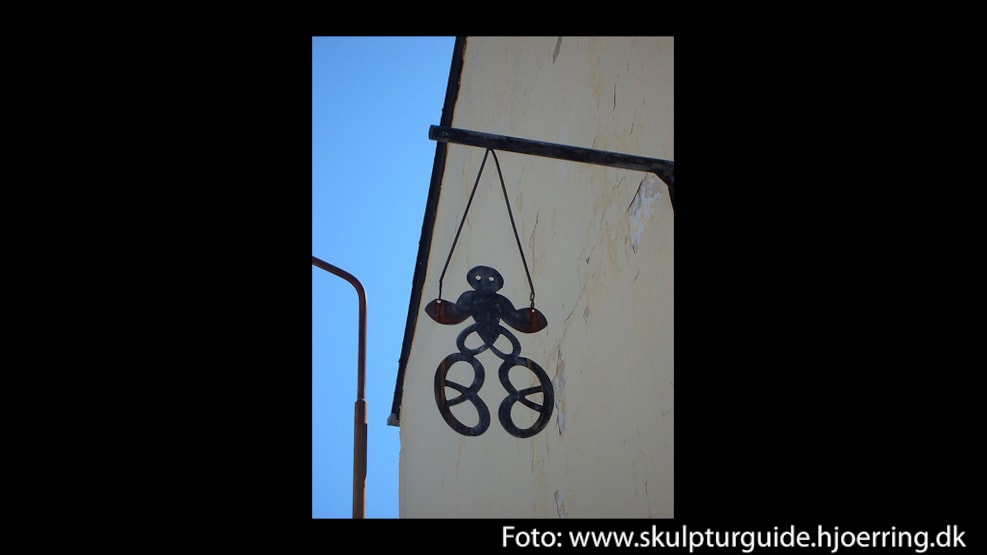 Kringlemanden
"PRETZEL MAN" (KRINGLEMANDEN), Iron trader's sign Poulsen, Freddy (Fraek): prior to 1987 -hanging from the gable at Sct. Olai Stræde. Hjørring- Iron trader's sign 
A curly pretzel man hanging from the corner of Nørregade! One instinctively knows "there is the Bakers..."
Freddy Fraek Poulsen, known to many as the charming musician Freddy Fræk, commissioned the Pretzel Man Sign for Krumme the Baker shop situated at the corners of Skt. Olai Stræde and Nørregade.
The baker's shop has long been closed but the sign has remained as tribute to the shop and it's charismatic owner, who currently is the Engine Driver for Hjørring's mid town, well loved "Krummetog" (Electric Steam Train on wheels), which to the great delight and entertainment for kids and those young at heart offers a free "drive" most Saturday afternoon around town.
Krumme's so called "Grotto" behind the Baker's shop where he often met to greet dignitaries, the famous and the general public in a festive spirit, has today been reconviened at Børglum Kloster.