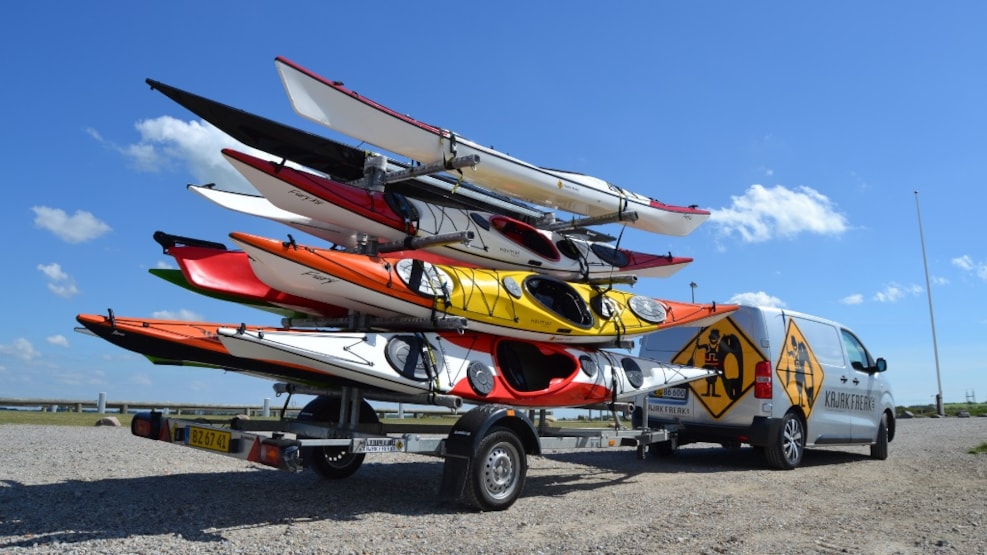 Kajak Freak - Water sports equipment and rental
Kajak Freak in Handbjerg: 2500m2 filled with kayaks, gear and equipment!
Our beautiful shop is located by Handbjerg Marina right next to the Limfjord. Here you can see and try sizes of different clothing and equipment.
You can try kayaks and paddles on the water before you buy - or in our test pool.
We live only 200 meters from the Limfjord.
Kajak Freak is also responsible for canoe rental at Storå. Read more here and book your canoe trip on Storå.
We love kayaks!
Best equipment and related products for kayakers. You will find us online and in our 2500m2 store at the water's edge in Handbjerg. It should be easy and safe to have fun on the water. That's why we have a large selection that suits both less experienced and washable kayak freaks.
At Kajak Freak you get a large selection and the best service
We attach great importance to you meeting competent staff who can advise you so that you get the sea kayak that suits you best. You also get the best deals and the highest quality
- and we have a large warehouse, so you do not have to wait, but can take the kayak home under your arm immediately. In the shop you will find a large selection of exciting gear and equipment for sea kayaking, water sports and turk kayaking.
You get the best sea kayak deals at Kayak Freak
We have put together a selection in the store, so you both get the best equipment in the highest quality at really good prices - and we choose the sea kayak brands that we ourselves love and can vouch for.
You will find the brands Rebel Kayaks, Aquarius, Kayman, Winner Kayak, North Shore, Valley, Feel Free, Reed, NRS, Whetman.
At Kajak Freak, price and quality must be linked and therefore our kayaks, sea kayaks and kayak equipment are not made more expensive by intermediaries with extra costs.
That is why we import 98% of all goods directly from the manufacturers, and this ensures you good prices, great offers and a large selection - both online and in our kayak center. With good prices, we at Kajak Freak have the happiest customers.
Sea kayaks at Kayak Freak
We carefully select our range of kayaks, sea kayaks and turk kayaks, so we can offer you the best products in different materials such as fiberglass kayaks, kevlar kayaks, plastic kayaks and carbon kayaks.
Remember: The body and shape of the kayak must fit together - with a good kayak you will learn techniques faster and get better - so it will be fun on the water.
On our website and in the shop you will also find a nice selection of kayak equipment, carbon paddles, kayak carts, life jackets, waterproof packaging, kayak pump, bilge pump, paddle floats, gear with buoyancy, so you do not lose your equipment when it goes wrong. in the waves.
Remember: We have our own service workshop, where we can offer you everything from maintenance tasks, small repairs to minor extensive damage to kayaks, sea kayaks, turk kayaks, polo kayaks.
We are also NRS Proshop and Valley's Scandinavian Test Center.
Stop by - we definitely have something for you too.
See our large selection at the best prices in our many categories here:
Canoes
SUP - Stand Up Paddle
Fitness kayaks - Sprint kayaks
Sit-on-top
Surf and WW Kayaks
Fishing kayaks
Polo kayaks
Paddle Paddles
Spray skirts
Clothing
Life jackets
Safety equipment
Transport and Storage
Waterproof packaging
Camping & Friluftsgrej
Kayak equipment for children
Kayak Lifestyle
Glasses cord
Bags
Kayak Spare Parts
Used equipment
Residual sales
Service workshop
VisitNordvestkysten © 2023