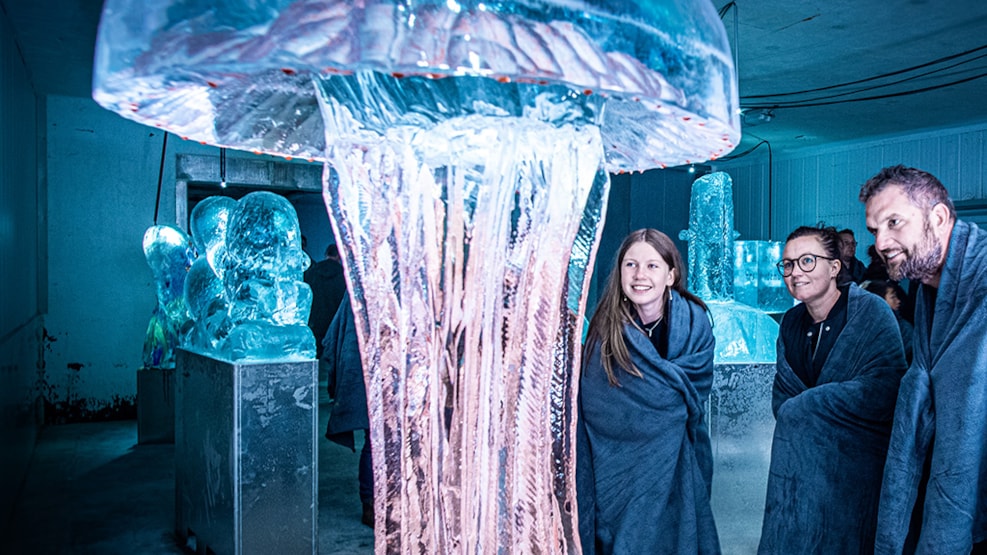 Iskunsten - Ice Art
Iskunsten - Ice Art - in Thyborøn shows a unique exhibition of fantastic ice sculptures, which come to life from the play created between the ice and the clear light.
The exhibitions change during the year.
Visit Thyborøn's new art attraction Iskunsten, where industry has become artistry.
In the old building, which was originally built for the purpose of being the town's freeze house, ice has again found a pupose after many years hiatus. In Iskunsten you can experience impressive exhibitions of ice sculptures and ice art. 
All year round you can experience different exhibitions, all with new themes and sculptures. Iskunsten is the only ice art exhibition of its kind in Europe.
In addition to the beautiful ice art, you can experience a historical, maritime exhibition about the importance of ice for the fishing industry in Thyborøn. You can also find out more about the building's original purpose and learn about the development of fishing during 100 years.
Find Iskunsten's opening times and read about current and upcoming exhibitions here.
Entrance: 
Children 0-2 yr.: Free
Children 3-12 yr.: DKK 69,-
Adults: DKK 79,-
Seniors (> 65 yr.): DKK 79,-
More attractions in Thyborøn
In Thyborøn you can also visit many other attractions, for example JyllandsAkvariet, where you can see fish from the North Sea and participate in a seal safari by boat or take the tractor bus on a trip. See current tours here.
And in Sneglehuset you can see and admire the many thousands of snail houses and shells from all over the world.