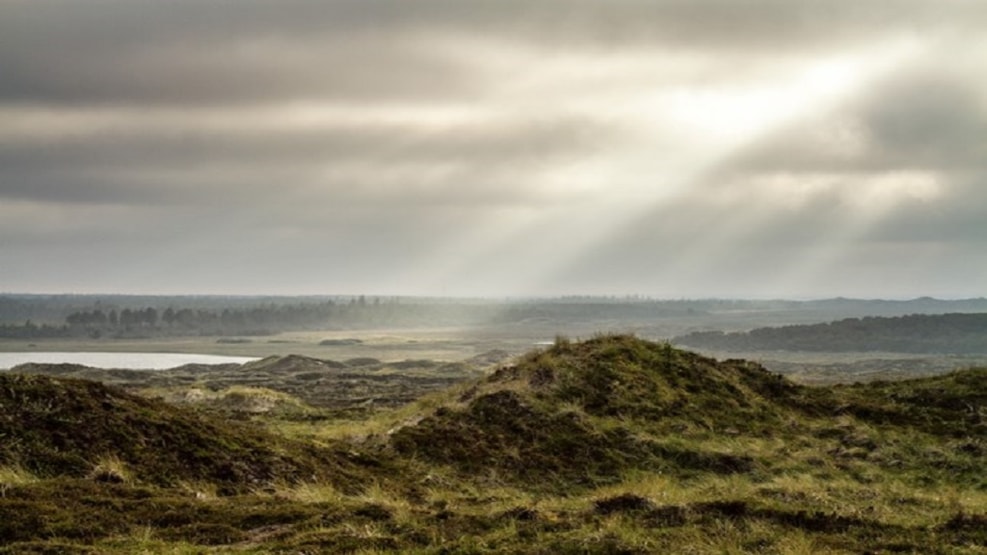 Isbjerg - Nationalpark Thy
Isbjerg is the highest point in Hanstholm Game Reserve - and thus also the highest point in National Park Thy - with 56 meters above sea level.
From here you have a magnificent view of the National Park Thys northern part between the North Sea, Hanstholmen in the north, Tved Klitplantage to the east and Nors Sø and Vilsbøl Plantage to the south.
Here you can experience wilderness in Thy National Park, almost as far as the eye can see.
There are restrictions on access and traffic, so the reserve is a sanctuary for animals and birds. Cranes, thinkers and rain sparrows breed here.
You may be lucky enough to see large flocks of crowned deer grazing undisturbed while sea eagles and ospreys fly high above the landscape.
The hiking trail to Isbjerg
The hiking trail to Isbjerg starts at Nors Sø. The path goes right on the edge of Hanstholm Wildlife Reserve. Therefore, be aware of the special rules that apply here. 
With its 3,900 hectares, Hanstholm Wildlife Reserve is an important core area in the national park and is the largest continuous North Atlantic dune heath in Europe.
The former seabed and consists of dunes, heaths, swamps, marshes and lakes. This is where rare plants grow and create good living conditions for countless insect species.
Download the Thy National Park app in English
VisitNordvestkysten © 2023