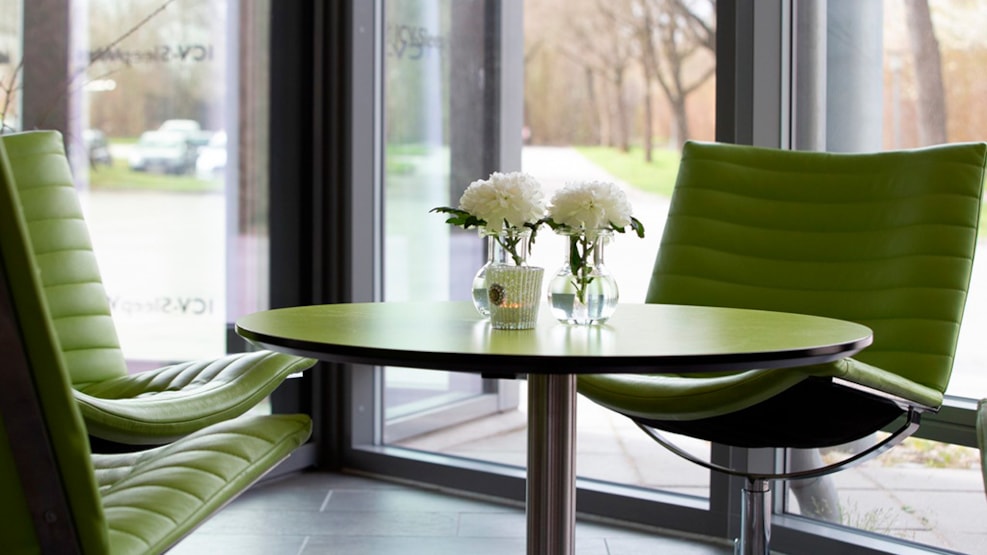 ICV SleepWell
Your favorite accommodation in the heart of Vendsyssel
ICV Sleepwell offers 14 well-equipped and comfortable double-/family rooms.
Free access to professional gym and free parking.
We are proud to welcome you to Hotel and Sports Center Vendsyssel, North Jutland's new and state-of-the-art venue for seminars, conferences and sports.
In addition to conference rooms, cafés, and a multitude of sports facilities (soccer, trampoline, fitness, squash, tennis, indoor cycling, physiotherapy), the ICV SleepWell has 32 lovely rooms, which we would like to present here:
20 Standard rooms: For up to 5 persons. Our standard rooms have everything you'll need for a great night's sleep. All rooms are equipped with super-comfortable spring core mattresses.
8 deluxe rooms (23 m²): These rooms offer extra space and a cozy area with a desk and chair.
4 accessible rooms, furnished in accordance with the regulations of the Danish Handicap Association, with spacious, wheelchair accessible bathrooms.
There is an elevator to the 1st and 2nd floors.
All our rooms feature
2 single beds, which can be joined for a double bed on request, as well as 2-3 bunk beds per room
Bathroom with a toilet, sink and shower
Table and chairs
Wardrobe
Flat screen TV and, in some rooms, PS3 / Blu-Ray player
All rooms feature comfy duvets, pillows and linens as well as 2 bath towels per person.
All corridors are equipped with ABA Fire Alarm systems.
All indoor areas are non-smoking.
Ashtrays can be found attached to the outer building walls.
We recommend purchasing our delicious Scandinavian breakfast buffet, served every day between 7.30 and 10.00 a.m.
We also offer:
Free coffee and tea, which can be enjoyed in our cozy seating area or by the playground or, weather permitting, in our patio
Access to guest kitchen
Free internet
Free parking
Free use of our fitness center between 5 a.m. and 11 p.m.
Walking and running route to nearby nature areas
An overnight stay at SleepWell is the perfect starting point for your stay in Vendsyssel, no matter if you are here for vacation or just passing through.
We are located at
5 minutes' walk from Vrå station
5 minutes' walk from the Vrå museum of art
5 minutes' drive from Nordjyske motorway (E39)
15 minutes' drive from shopping, culture and gastronomy in Hjørring
20 minutes' drive from the lovely North Sea beach
20 minutes' drive from the famous Rubjerg Knude lighthouse with its spectacular surrounding nature
25 minutes' drive from Hirtshals port with ferry connections to Norway
30 minutes' drive from Aalborg airport, with flight connections to Copenhagen
45 minutes' drive from the vibrant city of Aalborg with its pleasant fjord atmosphere