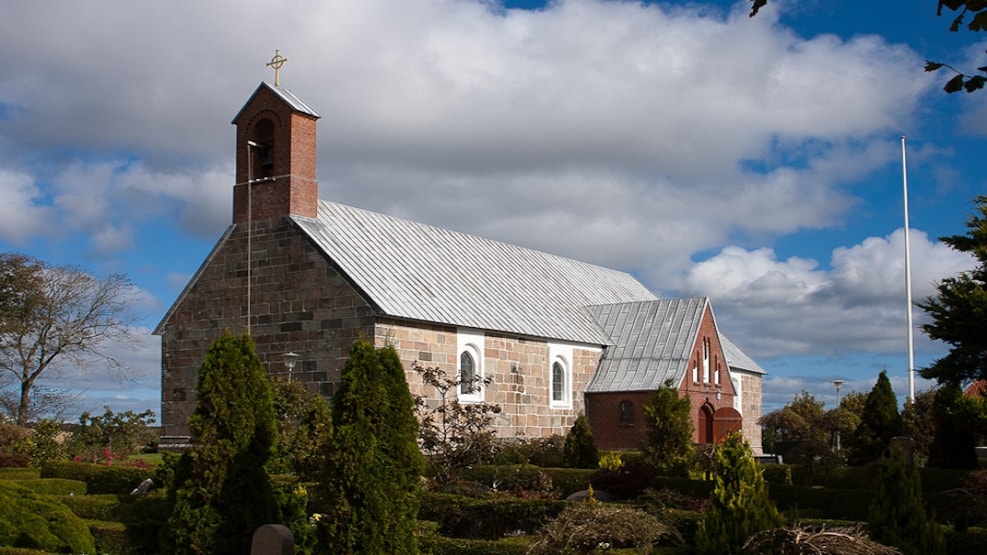 Hundborg Church
Hundborg Church in Thy was built in the 12th century. The church is mainly built of granite blocks.
The church consists of a Romanesque nave and chancel as well as a Gothic extension to the west. The church has had a Gothic tower to the west, which was demolished in 1686.
The porch was built in 1896.
The choir is characterized by the sumptuous altarpiece, confessional and clerk's chair.
The altar table is made of wood and has a front panel from around 1600 with three arcade panels. The altarpieces are from 1650-1700.
The altarpiece was carved by Søren Pedersen, Horsens, in 1691.
The pelican that feeds its young with its own blood is an allegory of Christ's death and resurrection.
Bird Phoenix is ​​an allegory of the resurrection. It builds up a nest of fragrant herbs and burns itself up, but arises from the ashes on the third day.
The pulpit stands in the northeast corner of the choir. It is probably made by Søren Pedersen, who also made an altarpiece and pulpit. At the bottom it has three arcade fields, and at the top there are pierced fields with vines. The image fields show the Fall, Moses and Christ.
The dean's chair, like the altarpiece, confessional and pulpit, was made by Søren Pedersen.
The pulpit is from the beginning of the 18th century.