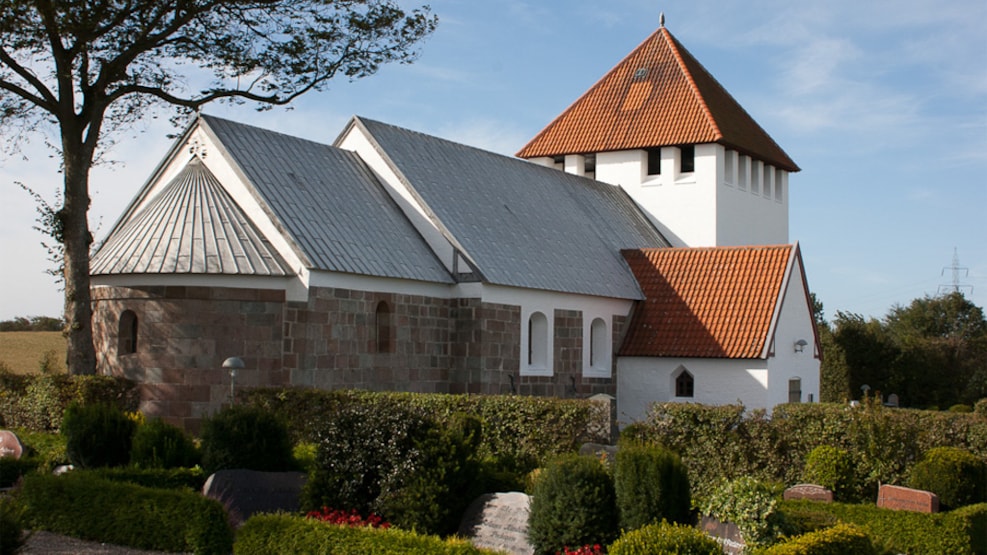 Hørdum Church
When Hørdum Church was restored in 1955, remains of an old wooden church were found under the church floor, which has been built together with the granite choir, which is the oldest part of the church. The apse, chancel and nave are from Romanesque times.
In 1884, a bell crest was built on the east wall from the demolished tower, and a wrought iron cross was placed on top.
The distinctive tower was built in 1955 as a replica of a defense tower. When the church got a new tower, the wrought iron cross was set aside. In 1990, the cross was placed on the altar as a replacement for the old wooden cross.
The mosaic glass in the apse with the victorious Christ is from 1955. The Church's Romanesque baptismal fund has four engraved crosses. Jug and dish are from 1990. The Renaissance pulpit of the Aalborg type with the four evangelists is from 1625. 
Thor Stone:
In the church's porch, the Thor stone with petroglyph depicting the god Thor is catching the Midgard Serpent. In the fight against the monster, his feet go through the bottom of the boat.
The stone was found during the excavation for the tower in 1954. It has been lying with the picture side down and served as the lower step by stairs in the church. The stone is the only Danish stone with a reproduction of Nordic myths. 
PHOTOS: Niels Clemmensen
VisitNordvestkysten © 2023