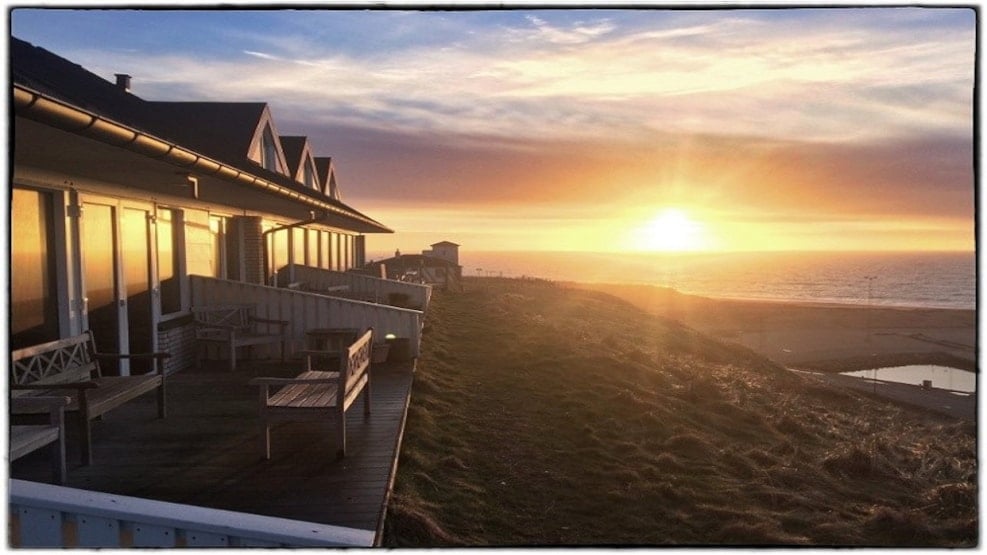 Hanstholm Guesthouse and Madbar
A comfortable yet elegant guesthouse overlooking the North Sea and Thy National Park in Hanstholm.
A comfortable yet elegant guesthouse overlooking the North Sea and Thy National Park, and only a short walk to downtown Hanstholm Harbour, Hanstholm Lighthouse and the town centre.
Hanstholm Guesthouse is a part of Hanstholm Madbar (Foodbar) - with local Thy beer, a good kitchen and a very nice port wine.
Hanstholm Guesthouse has 5 apartments - a 2 persons apartment and four 4 persons apartments.
All apartments have their own private bathroom, a full kitchen and Denmark's wildest view. And all with large bedrooms and living rooms. Everything is nice and clean, and in a modern Nordic bohemian style. There is so much room, and yes ... you can put your feet up on the table, too.
We have dropped the mini-bar - and instead made a vinyl records bar, with carefully chosen albums. So now you can hear, for the first time in a long time, an entire album, as you lean back and watch the North Sea waves crash over the pier, down below.
Of course, we have free WI-FI - but we don't know what you need it for.
Each apartment has a small, tiny TV with unbelievably few channels.
Our bathrooms are quite large, so you can brush your teeth while your children are in the bath. Yes, there are fresh towels. Delicious crispy white linen, too.
And after a good hike, horseback ride, leisurely walk, fishing trip, surf trip, romantic trip, food trip - there is the opportunity to enjoy the spa in our wonderful Wellness centre.
Our spa has a sauna, steam room, cold water boiler an jacuzzi. An experience you should not share with others. Unless, of course, you really really have someone you want to share it with. When booking the spa - you can have it all for yourself.
We have made Hanstholm Guesthouse based on our own egoistic needs, so that we're sure it also covers your needs.
If it's peace and quiet you seek, then we'll leave you to be - we'll just pass by with a sandwich once-in-a-while.
And whether you're with girlfriends, boyfriends or just friends - then we'll come and fill your fridge up, when needed.
No matter what, tell us what you need and we'll do our best.
Price per night:
For 2 persons DKK 1.350,00 in total.
For 4 persons DKK 1.950,00 in total.
Amenities:
Meeting rooms
Internet access
Private spa and Wellness
Private parking
Bar
All bookings via our email.
VisitNordvestkysten © 2023