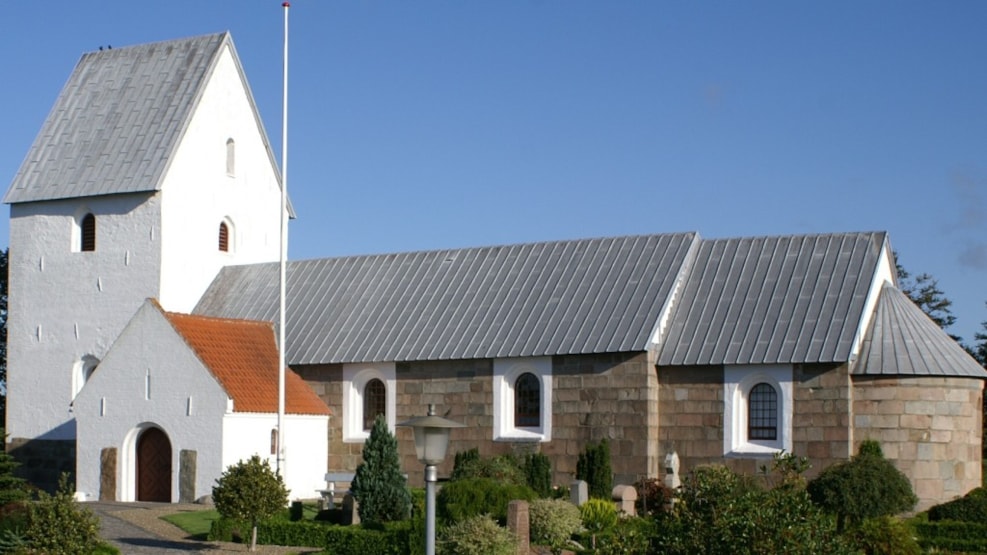 Gøttrup Church
The nave and apse of the church at Gøttrup have been built in granite ashlar in the 11th century and consecrated at St. Laurentius. Of the original, romanesque windows one in the apse has been preserved and one has been bricked up in the north wall of the choir, while the other windows have been extended.
The tower and the porch have been added in the late Middle Age, approx. in the year 1500. The bell dates back to the same period and has the following inscription: "Hail the Star of the Sea, Jesus the Nazarene, the Jews' King, St. Laurentius".
In the interior the beautiful baptismal font and the arches of the choir and apse have been preserved.from when they were built. The two stones of the arch of the choir are totally different, which seems peculiar to a contemporary viewer, but which was looked upon differently at that time.
On the north wall there is a human form with spread arms in a strange, reclining position.
The altarpiece with the carved figures of boys dates back to 1585. In 1989, its primitively painted Christ figure has become known again, after having been covered for years by a crucifix, which is now seen on the south wall of the nave.
On the pulpit from 1579, there are wonderful, naive, carved pictures of the virtues.
On each side of the door to the porch a gravestone from 1625 and 1629, respectively, has been built in.
For a period, curiously enough, they were used as doorsteps at Gøttrup Nørregård, former owner of the church. However, in 1922 they were brought back to the church and bricked in.
From the church yard there is a wide view , i.a. to the neighbouring church at Kettrup.
Today
The church has a small organ with six stops. The altar cover has its own story, as it has been locally designed and sewn by people from the parish - a lot of people have sewn on it.
The church was restored and painted in 1988, and for the last approx. 20 years improvements have mostly been about laying out the churchyard i.a. by means of paving stones and placing lawn tombs north of the church and new steps at the south dike.
VisitNordvestkysten © 2023