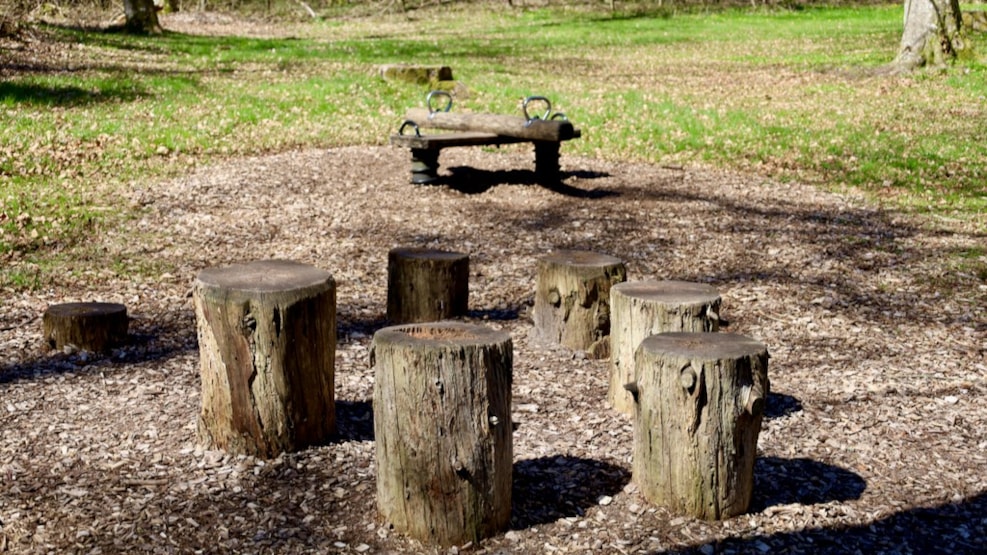 The forest playground by Vandet Sø in Thy National Park
You will find the forest playground north of Klitmøllervej by Vandet Sø in National Park Thy.
The playground is located in a depression surrounded by wooded dunes.
On the playground, children can have fun with swings, slides, climbing nets and cable cars - all built of wood. There are large trunks on the ground that invite for balance or a small respite in the game.
The family can enjoy the food basket at tables and benches under covered wooden pavilions. There is a fire place for barbecue and puff pastry or a cozy campfire.
The playground is 50 meters from the car park. From the car park you can take the bus to and from Thisted.
At the parking lot is also a toilet without water. Approx. 100 meters inside the forest, a campfire house with a campfire site and tables / benches has been built.
Viewing platform
On the opposite side of Klitmøllervej, there is a viewing platform at the top of the high coastal slope at Årbjerg. From here you have a view of the bird life at the western end of Vandet Lake.
Turn down towards the lake from Klitmøllervej at the 12.1 km mark. From the car park, a small path leads to the platform and a small seating area with tables and benches - all done in a handicap-friendly design.
From the same car park, a staircase leads down to the lake shore, where there are also tables and benches. In the summer, a bathing bridge has been set up, which brings the bathers beyond the stone base of the shore to the finest sandy bottom.
Activities
There are many opportunities for recreational activities in the area.
A mountain bike route starts from the car park. The route is described as medium-heavy and has a very varied course through both coniferous and deciduous forests as well as up and down the old Stone Age cliff.
Several hiking trails start from the forest playground. Among other things. an 8 km circuit through Vilsbøl Plantage past the bathing place by Nors Sø.
VisitNordvestkysten © 2023