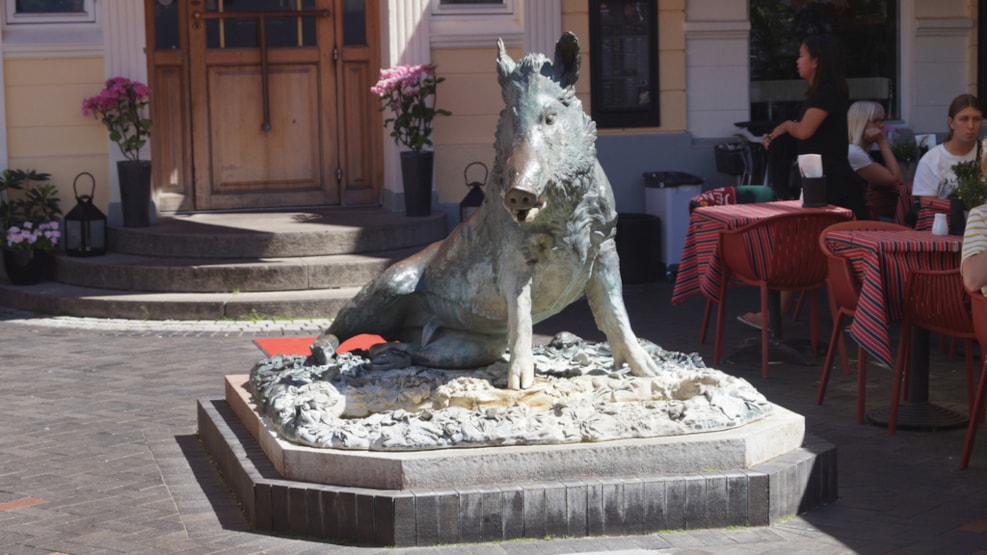 The Florentine Boar
The Florentine Boar was originally placed at Borbjerg Holmgård but when The Municipality of Holstebro bought the farm they moved it to its present location on Brotorvet.
The Florentine Boar on the Brotorvet in central Holstebro is a replica of the famous bronze boar in Florence, which Pietro Tacca cast in 1639 to Marcato Nuovo. The original boar was created from a marble sculpture found in the earth in Rome in 1550. In Florence, the boar is a mascot, and it was supposed to bring happiness by rubbing the boar's snout and throwing a coin into the basin. From the mouth of the boar, water runs down into the water basin with frogs, grass snakes, bees and a turtle. You also find copies of the bronze boar in the Netherlands, Sydney in Australia and on Vancouver Island in Canada.
After visiting Florence and seeing the original, Hans Christian Andersen wrote the adventure "The Boar in Florence".
In Holstebro, Hardernes Y's Men's Club has found inspiration in the above and made a wish well at the Metal Boar on Brotorvet. By throwing a coin in the well, you support a good purpose. Unlike most other wells, there is a guarantee that wishes will be met! If one does not get his / her own wish fulfilled, one contributes to the fact that children with cancer will have a wish fulfilled.
You can get the story of the artwork on the free city walks with a guide to the art in Holstebro, which takes place on Wednesdays in July and August. The tours start at 13:00 at "Woman on Cart" at The Old Town Hall in Nørregade and lasts approx. hour and a half. Participation is free and does not require registration.
VisitNordvestkysten © 2023