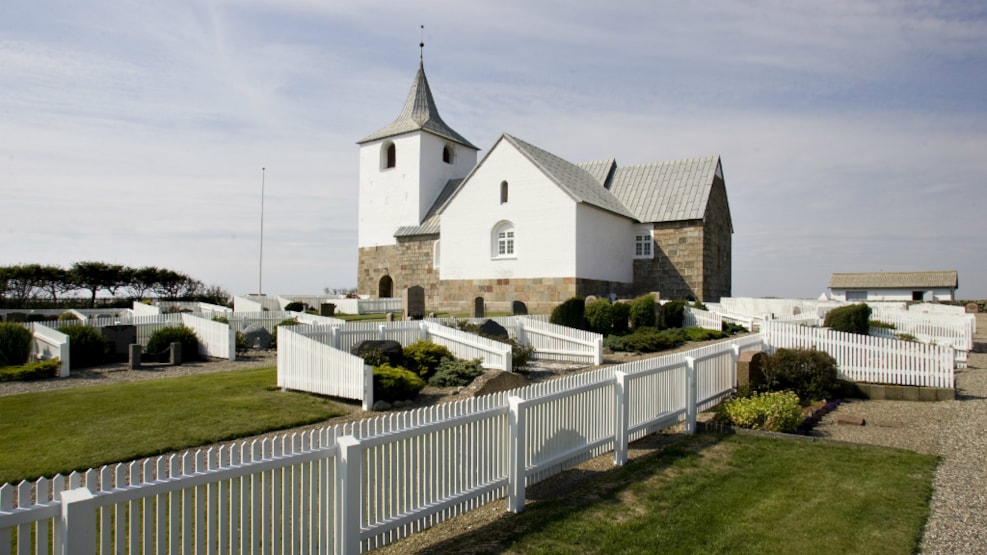 Fjaltring Church
The village church Fjaltring Church from the 12th century is located near the North Sea.
The Romanesque granite baptismal font is original and the altarpiece consists of granite blocks.
Around the outer walls of the church there are several squares with "stonemason's mark", a total of 18 triangles and squares, the meaning of which is unknown.
In most of the country's churches, the saint figures from Catholic times were thrown out and burned after the Reformation. But here the wooden figures on the altar from the 15th century are fortunately preserved.
The center field of the altarpiece contains three groups with the mercy seat in the middle, flanked by Anna Selvtredje on the left. Anna (Virgin Mary's mother) carries on her left arm a tiny Virgin Mary with the little Jesus child.
To the right is the giant Skt. Kristoffer with the Jesus child on his shoulder, supported by a staff, while he carries the Jesus child across the river. The legendary saint Kristoffer was extremely popular in the late Middle Ages, and is still popular in southern Europe. He is a protector for hikers and road users.
The cemetery is characteristic with the white fences, which provide shelter around the graves.
In the southern part of the cemetery, The Tomb of the Unknown, are two granite sculptures by Laila Vestergaard: "The mourner" and "The dead".
The white fences around the graves are unique to quite a few West Jutland cemeteries.
The church is open during normal working hours.
VisitNordvestkysten © 2023