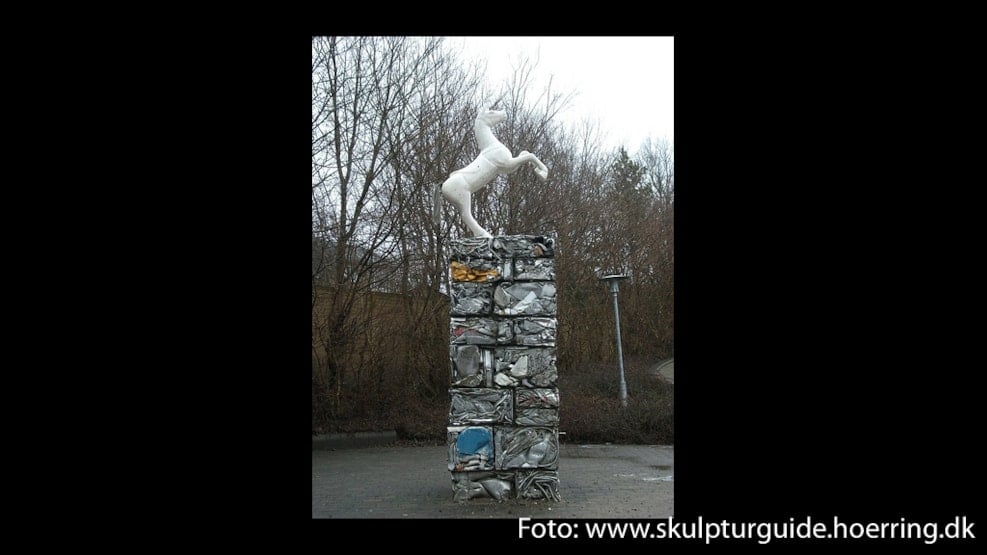 Énhjørning
The Unicorn, (Énhjørning)  Sculpture by Karin Olesen, 1990, Hjørring
This unicorn is made of recycled materials and refers to the name of the housing area "Hubertusparken" (Saint Hubert's Park). But does this symbolism refer to the crushed shells of the carsat the nearby wrecking yard, or does it refer to the myth of the Belgian Saint Hubertus, patron saint of the hunt?
The unicorn is a romantic fantasy creature, known from medieval adventures, fantasy literature and films. The horse with a single spiraling, long horn is a symbol of innocence and purity of heart, but Karin Olesen's sculpture challenged this traditional symbol's importance. For there is not much romance in hard compacted bits of aluminum, or a "My Little Pony" Figure oversized. The association of the wrecking yard is obvious and thus perhaps also to the horse as an"extinct" means of transport.

Another possibility is the reference to the St. Hubertus, which has given its name to the area Hubertus park. Hubertus was a French nobleman from 7th Century who passed his time by hunting excessively until  one day whilst hunting he had a vision- he  saw a buck with a cross between it's antlers. After this vision he devoted himself to the church and ended up as bishop of Liege, Belgium. St. Hubertus is the patron saint of hunters and perhaps the sculpture  refers to traditional Hubertus hunt that take place in the Deer Park, North of Copenhagen.