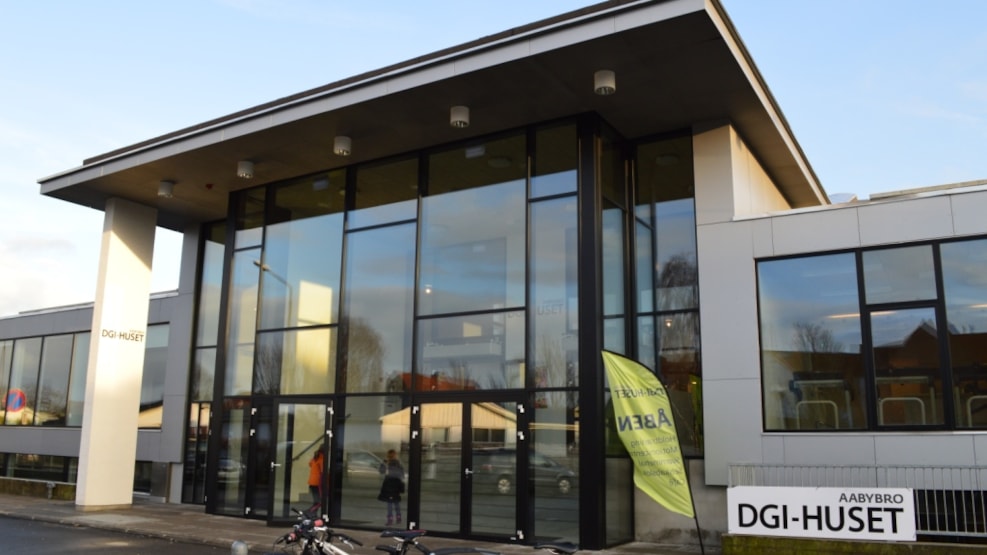 DGI Huset Aabybro
DGI-huset in Aabybro was thoroughly renovated in 2013/2014 and is now a modern leisure complex. It is a natural meeting place for children and adults, who comes visiting daily and in vacations. The surroundings is very bright and welcoming. The house is also provided with an environment friendly sunsystems. Visit DGI huset to experience more sports, cultures, parties, events, conferences and healthy food.
DGI-huset is filled with possibilities for all ages. You and your family can work out in the gym, join the indoor cycling team, or one of the many different fitness classes. Its relaxing to enjoy our 34 degrees hot water pool with massage jets, or the lovely sauna. After workout you can enjoy a smoothie, a salad or the dish of the day in the DGI Café. Maybe you need family time and like to  rent a badminton court or rent the whole hall for a bigger event. There will be nice activities for children and adults in every vacations. In the whole house there will be an opportunity to get free WIFI.
DGI-Hall is arranged with indoor play area so that the family can have an active pause.
We want to make a difference for the guests of DGI-Huset, 365 days a year. Because we dare to think different, take responsibility and divide with the needs of the guests. We will move you, inspire you and make pleasure for you and your family.
DGI seaside resort:
Swimming pool about 27 degrees, depth 1,2 - 1,4 m.
Hot water pool about 34 degrees, with massage jets, depth 1,2 -14 m.
Childrens pool, about 34 degrees, depth 0,2 m.
Changing room, lockers and sauna in both men and women.
Halls:
Hall A - Sports hall with grandstands, commentator booth, permanent banners, scoreboard and a sound system.
Hall B - Sports hall with a gym pit and a sound system.
Athletic facility with wall bars and a sound system.
Meeting rooms:
In the DGI- Huset Aabybro there is meeting rooms fitting 2-50 people. There is 5 light and friendly meeting and activity rooms, from 23 - 122 m2. 
Fitnesscenter:
The Fitness Center is in two floors. There is a wide selection of multi gyms and exercise machines like: treadmills, exercise bikes, step machines and cross trainers. Plus you will find adjoining weight training, indoor cycling and stretching rooms. 
Activity rooms: 
Light friendly rooms from 40 - 65 m2 for dancing, team activities like: gymnastics, yoga, dancing, kettle gym, circle training, etc.
Assembly rooms: 
We have company and conference rooms in all sizes, even if it is christening(baptizing), confirmation, christmas party, or conference we got the place. To get a presentation of our facilities or a talk about the menu. Contact Mikkel on 23392224 or Email: mbk@dgi.dk
The DGI Café: 
The Café is open every day from 8.00 to 20.00 and in weekends from 9.00 to 16.00. The cafe is designed with baby chairs, microwaves for feeding bottle and a flat screen tv. We also make food to parties and events. We serve a salad bar, snacks and the dish of the day, every day. Please order before if you plan on coming in bigger groups. Mobile: 23392224. 
It is our mission to be the natural choice.
We wishes to be: 
The natural choice of athletic facilities for you, families, companies, organization's and tourists in Aabybro when they wishes to do sports together or apart. 
The natural choice of facility/location for all citizens, organization's etc., when they are brought together and being social often with healthy and good tasting food.
The natural choice of meetingplace for public and private companies together with organization's, about meetings, receptions, conferences and fairs. No matter the number of participants.
We wishes to support the cohesive in Aabybro and surroundings with its associations and others.
VisitNordvestkysten © 2023