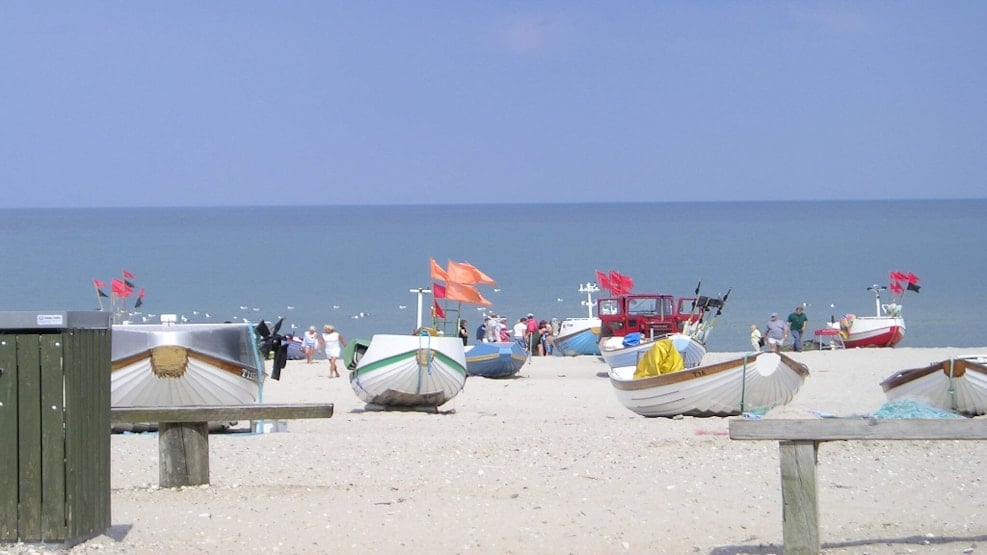 The coastal town of Nørre Vorupør
Nr. Vorupør is the largest and liveliest of the seaside resorts in Thy.
Here you will find beach, sand and water, grocery stores, handicrafts, surfing equipment, smokehouses, cafes, restaurants and lots of experiences for the whole family.
Cold Hawaii
Like Klitmøller, Vorupør is part of Cold Hawaii, so when the wind is in the right corner, there is plenty of activity at sea, which at the same time provides exciting experiences for the spectators on land.
Vorupør is said to be one of the five best windsurfing spots in Europe. If you are going to the wild North Sea, there is also plenty of opportunity to get a dip.  
Many surfers have searched for Vorupør, where you can still find housing for reasonable money, and where the trend is more and more towards the city's shops being open all year round.
The town's commercial life offers, among other things, the area's most well-stocked MENU, which with its own butcher department and bakery can supply all the food and non-food you need as a tourist or resident.
Vorupør Slagter delivers slaughter products from its own high-quality slaughterhouse, and has customers from all over Thy and surrounding areas. Here you can also buy meat from the Galloway breed that grazes on Agger Tange. You can find fresh fish at Vorupør Røgeri and Fiskercompagniets Retail.
In addition, the city has the country's only real shop for Christmas decorations, which is open all year. In Den Gamle Butik you will find elves, angels, reindeer, mice, Christmas pigs, poinsettias, Christmas balls, Christmas tablecloths and much, much more beautiful Christmas farm art in NORDIC DESIGN. Stepping into the Old Store is like stepping into another world. There is no stress or rush here. Just calm, coziness, nostalgia and the feeling of being set aside for a bygone era. And then there's Christmas!
In the city you will find a large number of other exciting shops, including Vorupør Lys, Siggelines, My Deluxe, Brinch Sale, Westwind, Forever Living and VØ Surfshop.
Vorupør has developed to such an extent in recent years. Here you will find a large variety of restaurants to suit the whole family.
Niels & Sinnes Fiskerestaurant serves Thy's largest fish table. At Restaurant Amalie, it is the large steaks of dry-aged meat that are in the forefront. At Break Café you can enjoy your coffee and have a chat with the local surfers.
Klochs Spiserestaurant offers burgers, steaks and spare ribs - and Colombian coffee with cake.
VØ Pizzabar is the most popular pizza bar in Thy, which uses local ingredients on the pizzas.
Vesterhavscaféen offers Denmark's best views of the landing site and the North Sea. Here you can enjoy a pan-fried plaice, a few good steaks or a portion of sausage mix.
At Hotel & Restaurant Havbadet you can enjoy a traditional Danish lunch or dinner in new delicious surroundings with a view of the water and life on the beach.