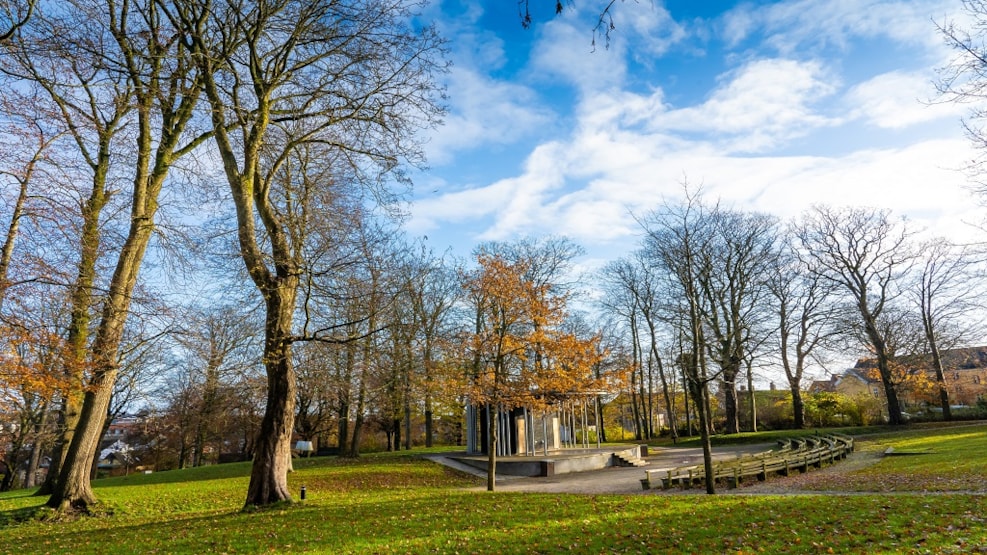 Christiansgave Town Park in Thisted
The Christiansgave town park is a beautiful green area in the middle of Thisted town.
In the centre of Thisted is "Christiansgave", a landscaped park started in 1821 and donated to the citizens of Thisted. by King Christian the 8th, in 1844.

The park was completed with an open-air theatre and the Kings´Garden with busts of a range of Danish kings.
In the spring of 2000 "the Ornamental Garden", a French inspired garden, was laid out in the park of Christiansgave. In the beds there are old-fashioned vegetables and edible flowers, for instance different kinds of cabbage, like palm cabbage, Finnish red cabbage, lilac broccoli, and garnishing kale, together with scarlet runner, pea flower, marigold, and lettuce.
In France, at the Loire Valley, gardening has developed into a special art: "The Ornamental Garden". Here the utility value of the plants is combined with their ornamental value. The purpose of the tiny garden in Christiansgave is to show some of the old plants, and to present another way to lay out a vegetable garden.

Christiansgave has got an additional attraction: "Sleeping Beauty's Palace", that is made on top of a trunk of a dead tree. The Palace is made of precious materials like gold and silver, combined with copper, iron, and aluminium.

There is a large playground in the park, too.
VisitNordvestkysten © 2023