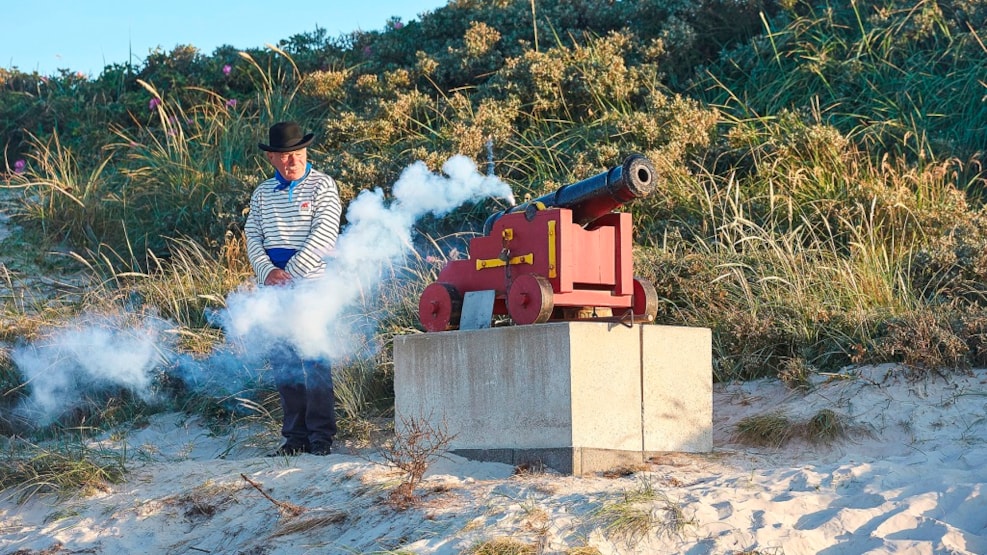 Cannon firing/salute on Blokhus Strand (Blokhus Beach)
During high season, a cannon is fired at sunset (9pm). In 2019, the local group, Blokhus Kanonlaug, fired the cannon every day, from Saturday 29 June until Saturday 10 August.
The Blokhus cannon originates from England. It was made in the late 18th century and was found on the beach amongst wreckage at the beginning of the 19th century during the war with Great Britain (1807-14), in which many British warships were wrecked in the bay, Jammerbugten. For a time, the cannon was used for salutes. A welcome salute was fired upon the arrival of a trading boat, as Blokhus Strand (Blokhus Beach) was difficult for boats to see when they sailed into Jammerbugten. A welcome salute would therefore indicate to the boats the direction in which they should sail.
In order to stop the Germans seizing the Blokhus cannon in 1864, it was buried under the sand dunes. After this, it stood in the inn, Strandingskroen, for many years, where visitors to the beach were free to look at it. Until 1910, the cannon was traditionally fired on New Year's Eve by fisherman Johan Sørensen. Since then, the Blokhus cannon has survived many different situations. It ended up in a restaurant at Klitmøller. But now the cannon has at last been brought back, so that today it once again forms part of the historical identity of Blokhus.