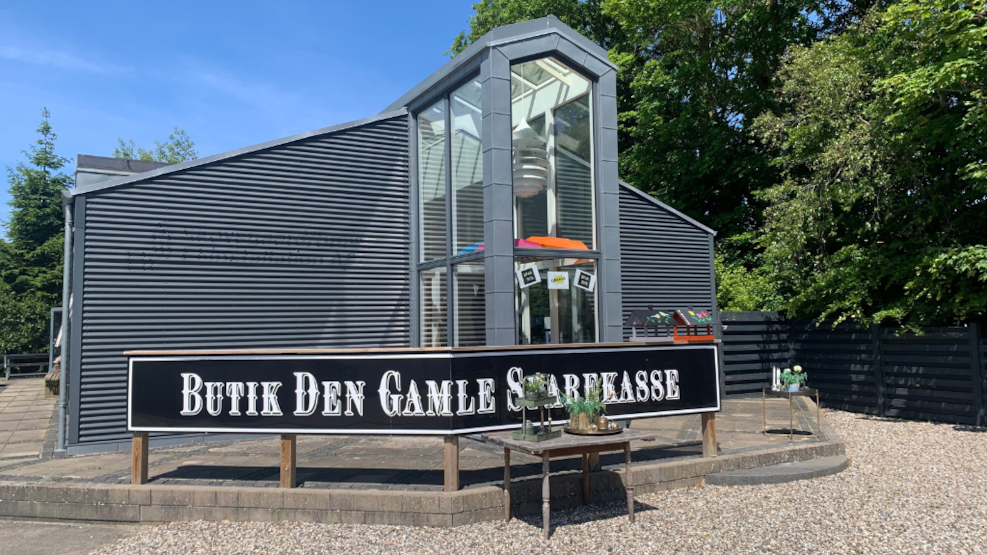 Butik Den Gamle Sparekasse
Arts and Crafts and Creative Workshop
At Skovsgård you will find "Butik Den Gamle Sparekasse". The idea behind the place is to be a creative workshop, which you can visit and see how the things are made. "Butik den Gamle Sparekasse" is a part of the daily activities at Krobakken. The shop is a workplace for grown-up people, who, one way or the other, are supported in a meaningful job. The shop contributes to create the framework for this.
"Butik den Gamle Sparekasse" is a special shop, and the unique thing is that the co-workers themselves make some of the products, which are sold. The products are e.g. cushions, coloured rags, homeknitted  teddies, treasure boxes, woolen slippers, funny jewellery, flowerpots, glass vases, coloured small furniture, and uniquely decorated bird cages.
If you have any special wishes, they will try to meet them. Only fantasy and  knowledge draw a line.... In the shop you may also find articles bought elsewhere. The shop can always offer you unique ideas for presents for both children and grown-ups. Anyone can afford to buy at the low prices, and everything will be wrapped up nicely.
At "Butik Den Gamle Sparekasse" you will only find unique products!
VisitNordvestkysten © 2023