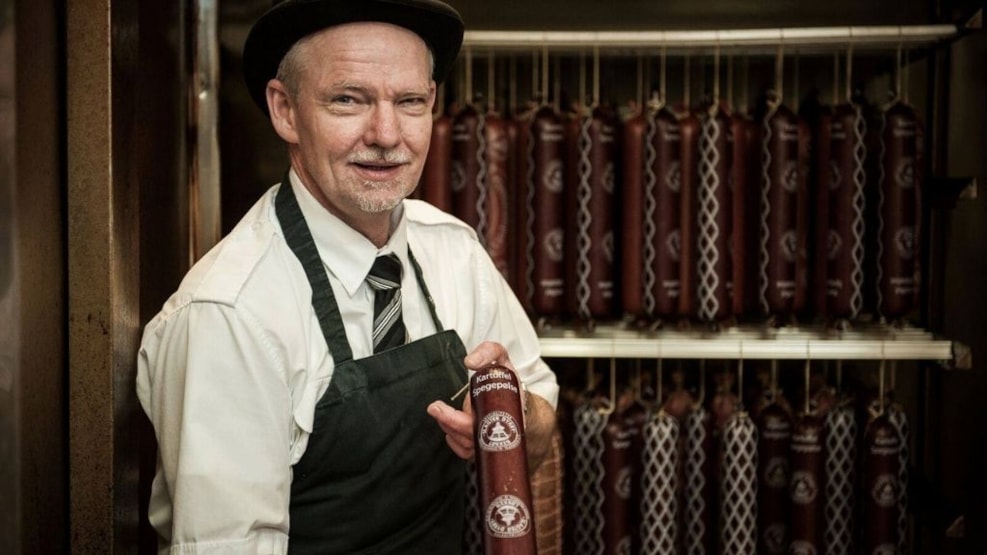 Butcher Dyrby
Løkken's traditional butcher shop Slagter Dyrby is a specialty shop, with a focus on making products from scratch, based on the old artisanal traditions. They have a wide selection that features lots of delicious specialties that are filled with love and quality!
At Slagter Dyrby (Butcher Dyrby) you can get anything your heart (and stomach) desire. Meat, cold cuts, take away, open Danish sandwiches (Smørrebrød) and other specialties. Excellent quality and great service. Every Monday the butcher makes minced fish bound with flour and eggs (Fiskefars), which is for sale in the shop. This mince is made from cod, and is of course also used in the Danish fish cakes.
From September till Christmas the butcher makes the traditional stewed kale (grønlangkål).
The butcher resides in a 100 year old building though it is not exactly know when the first butcher here opened. The current owners Lone and Carsten Dyrby acquired the restaurant in 2004, from the previous owners who started the shop in 1964.
Read more on their website: https://slagterdyrby.dk/
Slagter Dyrby is part of SMAG PÅ LØKKEN (Taste Løkken): http://smagpaaloekken.dk/