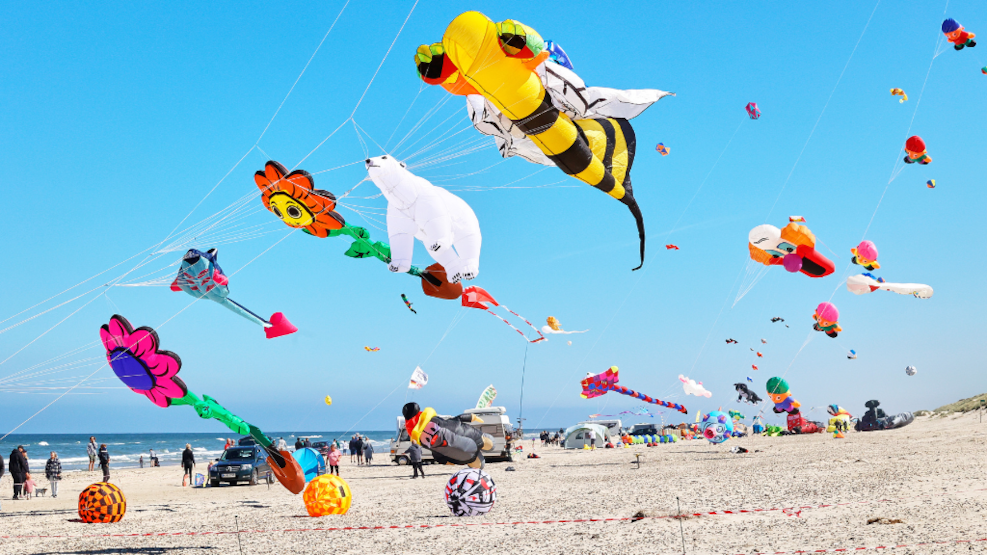 Blokhus-Løkken Wind Festival
All the colours of the rainbow are introduced and leave their stamp on the sky, when the brightly coloured Blokhus-Løkken Wind Festival takes place on the beach between Blokhus and Løkken, and kite- and wind enthusiasts from the USA, Germany, Sweden, Norway, and Denmark meet.
By land by sea .... but mostly in the air

See the flyer here
The 15 km long beach between Blokhus and Løkken forms the basis of a quite spectacular weekend , during which the beach is crowded with kite experts, enthusiasts, children and grown-ups, who have one thing in common: the very special feeling, which arises, when they follow and control a brightly coloured kite dancing ballet in the blue sky.
Air under the kite wings
The weekend offers i.a. FREE FLYING - where the visitors are allowed to fly their own kites in the festival area, evening flying, large shows, team flying and flying gigantic kites in the festival area. There will be a lot of fun for kids e.g. throwing of caramels from a height of 10-15 metres. It will also be possible for the kids to be creative regarding the kite workshop of the year. Here they can build their own kites.
It will be a photogenic experience, and the visitors can expect a very special experience. All may fly their kites in the enclosed areas, and the organisers hope that more clubs will turn up. There is free admission, and the visitors themselves may join by bringing their own kites.
VisitNordvestkysten © 2023