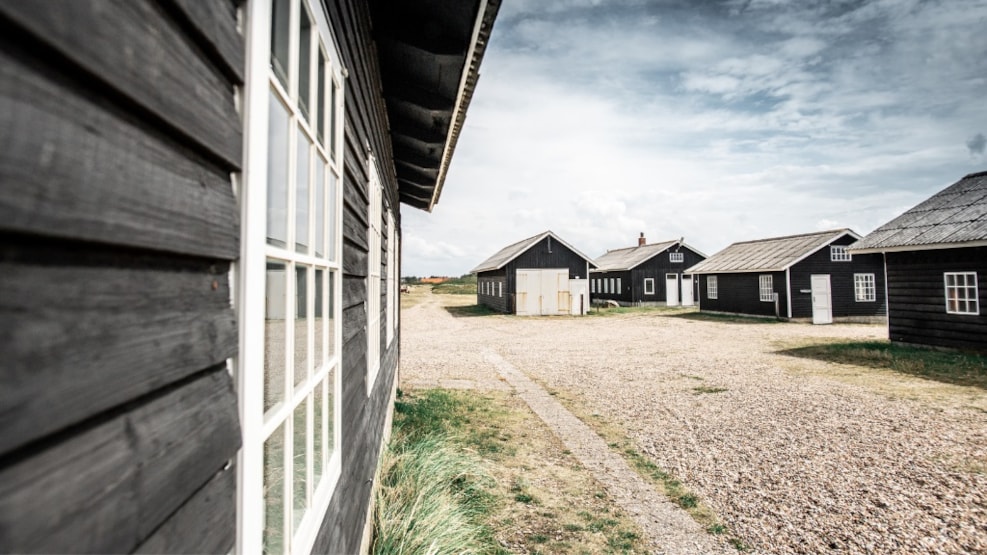 The Black Houses, Agger, Thy National Park
Close to the North Sea in Agger, Thy, are the beautiful old wooden houses, De Sorte Huse, which were built in connection with the Water Construction Administration's work with coastal protection.
Today, De Sorte Huse contains, among other things, an exhibition about Agger's history and coastal protection. You can also sit inside and enjoy your packed lunch.
In addition, the black houses are used for cultural events. The houses were originally red, but were later painted black.
Along the coast and out on the hips, a narrow railway was laid, which the Water Construction Authority's train drove material out to the construction site. At the hips, cranes were used to lift the elements into place.
During the construction, they employed both locals who needed to supplement the income from fishing, and so-called North Sea brushes, who traveled around and worked at the coastal protection.
Even children were employed at the first hip constructions. They were tasked with nailing down the poles that were to be framed in the seabed. The seams should be so tight that they prevented the attack of pole worms. Some children managed to nail 10,000 nails a day.
Also visit Fiskerhuset, which conveys Agger's story.
Agger has an impressive handicap path, Denmark's longest, which provides good opportunities for wheelchair users to get completely out into the dunes in National Park Thy.
The area's long beautiful sandy beach invites to a beach holiday. Location between the North Sea and the Limfjord makes Agger an eldorado for anglers, surfers, bathers and hikers.
The cycle route "West Coast Route", National Cycle Route No. 1 goes through Agger.
Panorama route 410 Experience the forces of nature also pass through Agger.
VisitNordvestkysten © 2023